Polish president defends relationship with US despite diplomat's alleged vulgar comments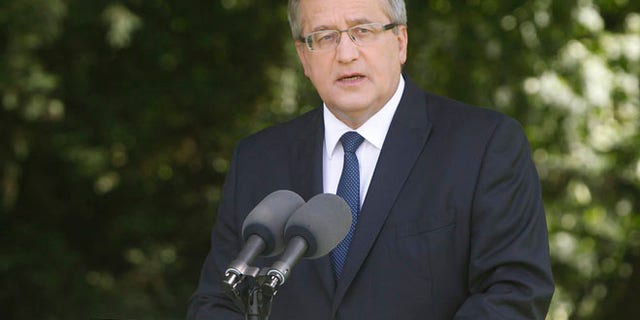 The Polish president said Monday that the United States remains "a very important ally" and that will not change despite the leak of alleged disparaging remarks by the country's top diplomat.
President Bronislaw Komorowski spoke a day after the magazine Wprost released a transcript in which it said Foreign Minister Radek Sikorski said Poland's alliance with the U.S. is worthless and even harmful for the eastern European country because it created a false sense of security.
"We'll get in conflict with the Germans, Russians and we'll think that everything is super, because we gave the Americans a b---job," Sikorski said, according to Wprost. He also described Warsaw's attitude toward the United States using the Polish word "murzynskosc," a derogatory term which denotes a dark-skinned person and someone who does work for somebody else, the transcript said.
In speaking to reporters in Warsaw, Komorowski sought to downplay the remarks.
"The United States is our very important ally and partner," he said.
Transcripts of bugged restaurant conversations between top officials are rocking Prime Minister Donald Tusk's center-right government and critics have urged it to resign.
Earlier Monday, Tusk said he will not dismiss officials whose compromising conversations were caught on tape in what he called a "criminal" action by "ill-intentioned people."
Sikorski asserted Monday that organized crime was behind the secret recordings.
"The government was attacked by an organized crime group," Sikorski said in Luxembourg. "We don't yet know who stands behind it."
He offered no proof for his statement.
The magazine says the recordings came from a "businessman" who did not do the taping and were made in the private VIP rooms of Warsaw restaurants.
In the transcript released by Wprost, Sikorski used vulgar terms while telling the former finance minister, Jacek Rostowski, the Polish-U.S. alliance is not helping Poland.
"The Polish-American alliance isn't worth anything. It is even harmful because it gives Poland a false sense of security," Sikorski allegedly said. "(We are) suckers, total suckers."
In Washington, State Department spokeswoman Marie Harf would not comment directly on the tapes, but said "the United States and Poland have an incredibly strong relationship ... based on shared values.
"It's a key part of our alliances in that part of the world. And the crisis in Ukraine, I think, has made that even more the case, where we're confronting a shared threat together," Harf said.
Earlier, Wprost released what it said was a conversation between Central Bank head Marek Belka and Interior Minister Bartlomiej Sienkiewicz in which they discussed how the bank could help the governing party win re-election in 2015, a seeming violation of the bank's independence.
The Associated Press and Reuters contributed to this report.