Perry touts 'Texas model' after historic term, eyes 2016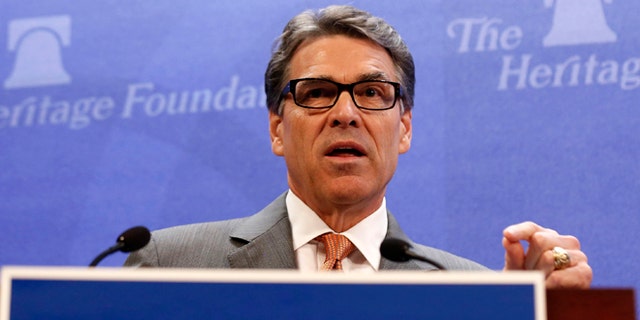 Governors come and governors go, but Rick Perry is leaving a mark on Texas that won't soon be forgotten.
With the new year, Texas' longest-serving governor will leave the office he's held for more than three consecutive terms. Handing the reins to Attorney General Greg Abbott, his transition marks the end of an era in Texas politics.
And yet, Perry doesn't sound like a man hanging up his spurs.
Already, he's stoking chatter of another White House run, reportedly courting donors and taking heed to brush up on his policy to avoid the stumbles of 2012 should he run again. The governor formed a political action committee, in support of fellow Republicans, earlier this year. And he recently confirmed he'll attend a high-profile conservative forum, the Iowa Freedom Summit hosted by Rep. Steve King, in politically important Iowa next month.
Meanwhile, he's been spending his final days in the Governor's Mansion burnishing his legacy: what his supporters call the "Texas miracle." In an extensive interview with FoxNews.com, the outgoing governor said he has no regrets.
"If I had any regrets I'd stick around for another four years," Perry said. "I'm ready to go."
The "Texas miracle" refers to his state's steady job growth and sturdy economy. But Perry tamps down the buzz phrase just a little.
"Miracles I can't explain, I'll leave those to the good Lord," he said. "This is not a miracle. We know how this happened."
To hear Perry tell it, the "Texas model" is a proven blueprint that can work across the country. (Yet another Texas-sized hint he's seriously considering a White House run.)
It's a mark even his critics can't ignore.
"Governor Perry established in the national mind that Texas is the place for jobs and freedom where entrepreneurship thrives and the American dream is alive," said Cal Jillson, SMU political science professor and author of "Lone Star Tarnished."
Indeed, Texas under Perry has outpaced any other state on the employment front, creating three out of 10 of all U.S. jobs. Forbes magazine recently named Texas as the leading state for economic climate and future job growth while Chief Executive Magazine readers have named Texas as the number one state to do business for 10 years running. Over 100 of America's top companies -- including AT&T, Fluor, Dell and ExxonMobil -- are based in Texas. Toyota, Apple, Charles Schwab and SpaceX are expanding operations in the state. Perry has crisscrossed the globe with missionary zeal, from Beijing to London, touting a flourishing Texas brand that looks a shade brighter against the national economy. Texas, in turn, is America's top exporting state averaging more than $1 billion in exports every working day.
"I was always intrigued with economic development and an economic climate that frees people," Perry said. "It was innate, something I derived from watching people I admired like my father, and it wasn't something I read or studied in school."
But Perry still has plenty of critics, who would no doubt pipe up should he try and bring the "Texas model" to the rest of the country in a 2016 presidential campaign. Plus, he continues to face an indictment for alleged abuse of power, after allegedly pressuring a Democratic prosecutor to resign after a drunk-driving conviction. Perry and his supporters blast the case as baseless and describe his own actions as lawful, but it's an undeniable wild card in his political future.
Wealth inequality is a big beef with his detractors who prefer to cite other statistics on the state's economy. "Perry leaves everyday Texans with the 13th highest poverty rate in the country, limited access to affordable health care and underfunded neighborhood schools," Texas Democratic Party spokeswoman Rachel Boyer said.
"If you're white and wealthy, Texas is a great place," said Jillson. "However, no Texas governor Republican or Democrat is eager to raise taxes and without that you can't expand access to health care or decrease the cost of higher education."
Texas is still considered the uninsured capital of the United States.
Perry counters that Texas has the lowest percentage of citizens on welfare in America and says the quality of Texas health care is substantially better than elsewhere in the nation. "I basically disregard the critics," he said. "They are most likely political hacks who don't have a real interest in having a legitimate conversation about reality."
Among those realities, according to the Dallas Fed, is a state that leads the nation in job growth across all wage levels. There are almost 1 million more women in the workplace since Perry took office. In education, the on-time graduation rate for the class of 2012 was the highest in the nation. Perry championed in-state tuition for undocumented students during his first term, despite some pushback from his party. Now, undergraduate degrees and certificates awarded to Hispanics have increased 228.2 percent, and financial aid has increased 900 percent under Perry's watch.
The nature of Perry's legacy, somewhat unavoidably, depends in large part on which stats one chooses to read.
However, former Republican state legislator Brian McCall sums up that legacy in one word: Power.
"Rick Perry has made every possible appointment in Texas government," said McCall, the author of "The Power of the Texas Governor: Connally to Bush." "This is the first time this has happened in Texas history."
Another pillar of the Perry era has been the consolidation of the GOP majority in Texas.
Ironically, Perry began his political career as a Democrat in the Texas House of Representatives in 1985. He changed parties shortly afterward.
He has since won every statewide election he ran beginning in 1990 for agriculture commissioner, where he served for eight years before winning the number two spot as lieutenant governor. He became governor when then-Governor George W. Bush became the 43rd U.S. president -- and then went on to secure three elections, even fending off primary challenger Kay Bailey Hutchison, then a senator.
"No Democrat has won or come within 15 points on Rick Perry's watch," Jillson noted. "Perry locked this down."
But whether his legacy translates into a White House bid -- and a successful one at that -- is an open question. The last time around, he flamed and then fizzled amid attacks from his primary rivals and an embarrassing debate blunder where he forgot a federal agency he wanted to abolish.
"Whoever the Republican nominee is, whether it's me or someone else, I hope we will have a legitimate intellectual conversation with the American people about federalism and how to make Washington inconsequential in people's lives," Perry told FoxNews.com. "The Texas model is a blueprint that works and I would suggest to you how to make your citizenry happier."
An announcement could come in May or June. McCall said, "Rick Perry is a man with the wind at his back."