Perry team turns mug shot into fundraising shirt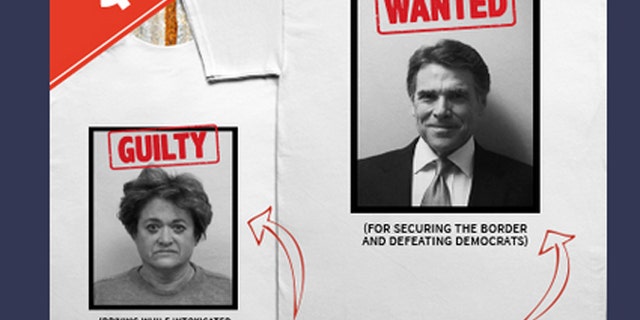 Texas Gov. Rick Perry is not letting his mug shot get him down -- in fact, he's fundraising off it.
The governor's political action committee, RickPAC, has started selling $25 T-shirts with his mug shot, taken last week after his abuse-of-power indictment, plastered across the front.
The word "WANTED" is stamped in red on top of the photo.
Of course, there's a twist. Beneath the mug shot, in parentheses, it says, "For securing the border and defeating Democrats."
And on the back of the shirt is the mug shot of his political nemesis in this case, Travis County District Attorney Rosemary Lehmberg. The shirt says "GUILTY" over her picture, adding "driving while intoxicated and perversion of justice."
Lehmberg's drunk-driving arrest is at the heart of the abuse-of-power case against Perry. Perry was accused of improperly using his veto power to threaten to strip funding for Lehmberg's Public Integrity Unit unless she resigned following her arrest.
The Republican governor was indicted in the case, and pleaded not guilty last week.
Perry's legal team filed a motion on Monday seeking to halt the case.