Pentagon Seeks Death Penalty Against USS Cole Bombing Suspect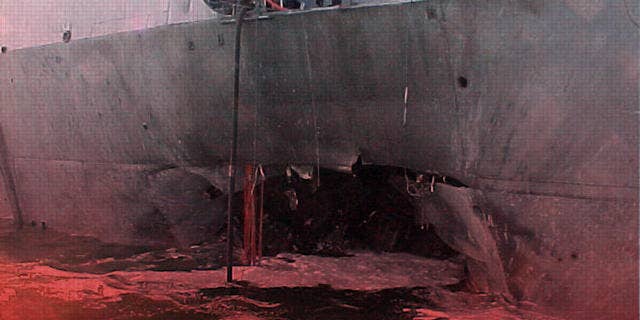 NEWYou can now listen to Fox News articles!
The Defense Department announced Wednesday that it is seeking the death penalty against a Guantanamo Bay detainee in connection with the USS Cole bombing in Yemen more than a decade ago.
Military prosecutors have re-filed terrorism and murder charges against Abd al-Rahim al-Nashiri, of Saudi Arabia, the first case to move forward since President Obama ordered military trials to resume at Guantanamo Bay. The charges allege that Al-Nashiri led the planning and preparation for the USS Cole attack that blew a hole in the ship, killing 17 sailors and wounding another 40.
Al-Nashiri was first charged in 2008, but those charges were later withdrawn after President Obama took office, as his administration undertook a sweeping review of the Guantanamo Bay detention program. Al-Nashiri had been waterboarded during the Bush administration.
The Defense Department said Wednesday that the suspect will now be charged with a number of severe counts, including murder in violation of the law of war, terrorism and attempted murder.
The charges are referred to the Convening Authority for Military Commissions, which presides over the war crimes tribunals at the U.S. base in Cuba.
The USS Cole case had already been designated for a military trial by Attorney General Eric Holder in November 2009. But because the process stalled for political reasons, it took more than 17 months for the case to move forward.
Khalid Sheikh Mohammed, the professed mastermind of the Sept. 11, 2001, terrorist attacks, will also be tried before a military commission. Holder had planned originally to try Mohammed in U.S. Federal Court in New York, but Congress intervened and made it illegal to bring suspected terrorist prisoners into the United States.
Fox News Catherine Herridge, Justin Fishel and The Associated Press contributed to this report.