Pentagon prepares for possible evacuation of US personnel from Libya, amid upheaval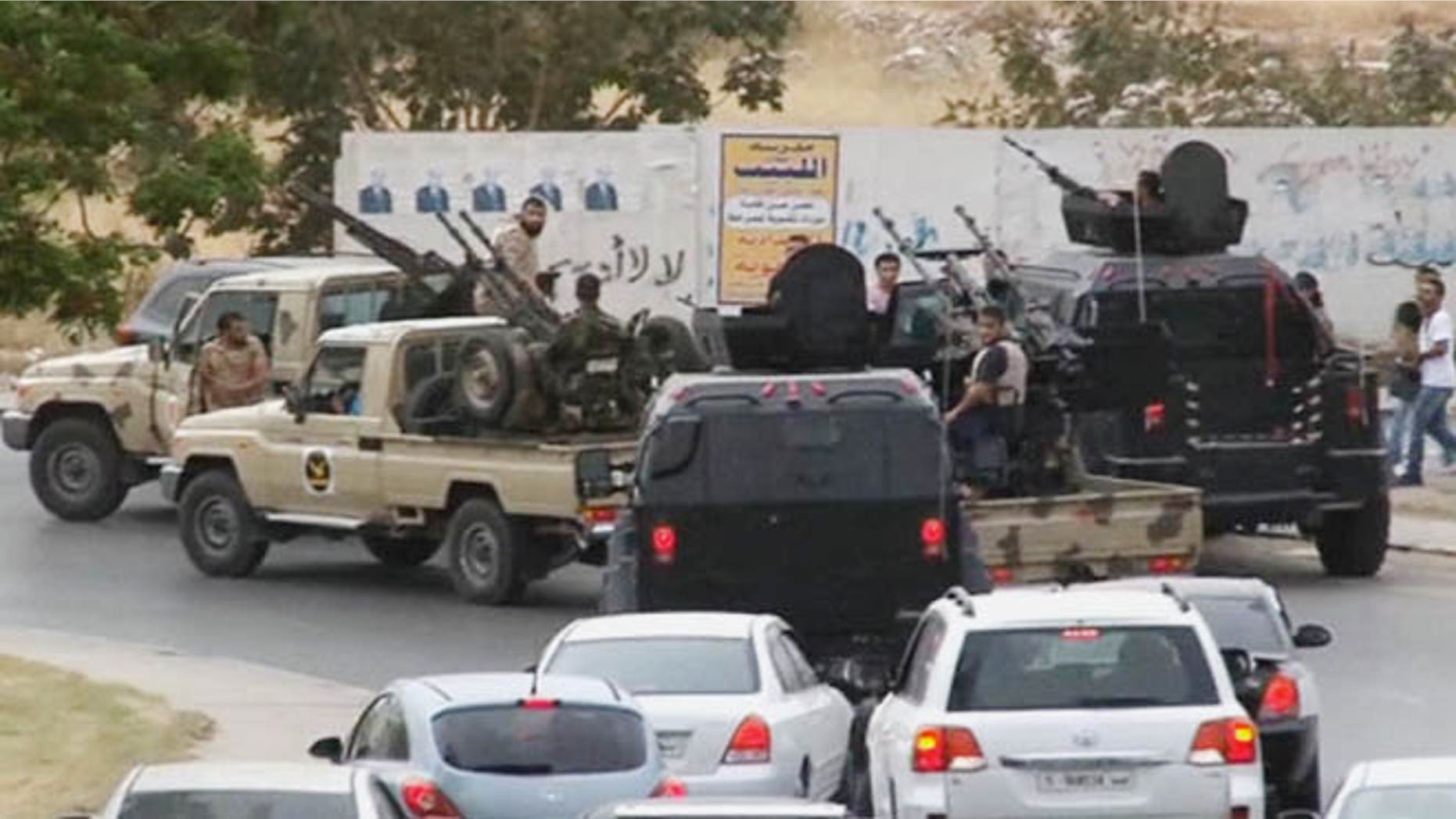 The Obama administration is moving military assets into place in preparation for a possible evacuation of Americans from Libya, as a political crisis threatens to touch off a new wave of violence in the unstable country.
Officials say no decision has been made on whether to move U.S. personnel, particularly those at the U.S. Embassy in Tripoli, out of Libya. But the U.S. military is preparing in case the State Department makes the call.
Defense Department spokesman Lt. Col. Myles Caggins said eight Ospreys and three KC-130J refueling aircraft are now positioned at Sigonella air base in Italy. In addition, about 250 Marines are in Italy, as part of a team put in place in the wake of the 2012 Benghazi terror attacks.
Officials are no doubt mindful of the lessons from Benghazi, and say they're watching closely as rival factions clash and position for confrontation in several cities.
"We are closely monitoring developments in Libya," State Department spokeswoman Jen Psaki said Monday, adding that the security of Americans "is our highest priority" and the administration has received "regular updates."
"The situation on the ground, obviously, could change quickly, and so we'll continue to evaluate and update our posture as needed," she said.
The State Department no longer has a presence in Benghazi, but does have people stationed in Tripoli.
Tuesday is a critical day in an escalating battle between a renegade general and Islamist-aligned groups and politicians.
Libya's Islamist-led parliament is pushing ahead with holding a vote of confidence Tuesday to approve a disputed new prime minister. The vote would defy demands by the general, Khalifa Hifter, that the legislature disband.
The vote could escalate one of Libya's worst crises since the ouster and death of dictator Muammar Qaddafi in 2011. Powerful militias allied to Hifter stormed parliament earlier this week and unilaterally declared it suspended, part of a campaign that Hifter says is aimed at breaking the power of Islamic extremists in the country.
Parliament ignored his suspension declaration, but lawmakers will meet in a secret location for Tuesday's vote for fear of a repeat attack, one lawmaker said, speaking on condition of anonymity because he was not authorized to talk about the arrangements. The state news agency LANA reported that parliament would meet, but did not say where.
The standoff between Hifter and Islamist factions and militias allied to parliament is threatening to spiral into a battle for power, as militias rally to each side. Hifer's allied militias are positioned along the road to Tripoli's airport, south of the capital, while Islamist-led militias from Libya's third-largest city, Misrata, have mobilized and are positioned to move into the capital after a call by the parliament's head.
Hifter has said he is waging a war against terrorism and accuses Islamist politicians who dominate parliament of allowing extremists a free hand in the country. On Friday, Hifter's forces attacked camps of Islamic militias in the eastern city of Benghazi. His opponents accuse him of seeking to grab power for himself.
In Benghazi, the Al Qaeda-inspired militant group Ansar al-Shariah vowed in a statement to battle Hifter's forces, denouncing them as "advocates of sedition and corruption that we must confront and expel" because they are waging war against Islamic law.
"The choice of confrontation has become inevitable," it said.
The parliament session Tuesday is to give a vote of confidence in a new Cabinet under Ahmed Maiteg, an Islamist politician that lawmakers chose as the new prime minister in an earlier vote, the lawmaker and LANA reported. Parliament earlier this year voted to remove Western-backed prime minister Ali Zidan.
Fox News' Jennifer Griffin and The Associated Press contributed to this report.