Pentagon confirms halt of August war games with South Korea
The Pentagon confirmed Monday that major U.S. military exercises this summer in South Korea would be suspended, following President Trump's decision.
Dana White, the Pentagon's chief spokeswoman, said in a late afternoon statement: "Consistent with President Trump's commitment and in concert with our Republic of Korea ally, the United States military has suspended all planning for this August's defensive 'wargame' (Freedom Guardian)."
The U.S. and South Korea regularly have held major joint exercises with South Korea.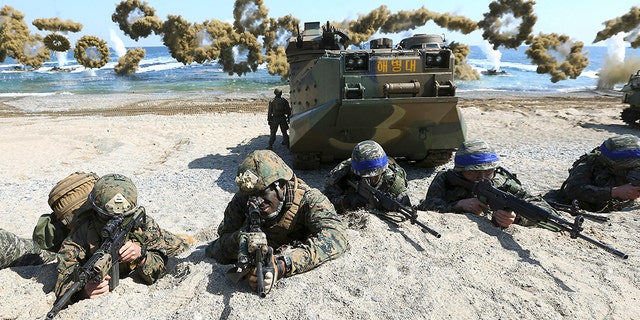 The summer exercise, Ulchi Freedom Guardian, consisted mainly of computer simulations to hone joint decision-making and planning. Some 17,500 American and 50,000 South Korean troops participated last year. The drill, held since the 1970s, usually took place in August.
White added: "We are still coordinating additional actions. No decisions on subsequent wargames have been made."
Appearing to catch both South Korea and the Pentagon by surprise, last week Trump promised to end war games with South Korea, after meeting North Korean leader Kim Jong Un.
"We will be stopping the war games, which will save us a tremendous amount of money, unless and until we see the future negotiation is not going along like it should," Trump told reporters after his meeting last Tuesday with Kim in Singapore. "But we'll be saving a tremendous amount of money. Plus, I think it's very provocative."
The president has suggested strongly that the meeting with Kim ensured that North Korea was no longer a threat.
Kim has labeled the exercises practice for an invasion of North Korea.
"Holding back the 'war games' during the negotiations was my request because they are VERY EXPENSIVE and set a bad light during a good faith negotiation," Trump tweeted Sunday. "Also, quite provocative. Can start up immediately if talks break down, which I hope will not happen!"
Military.com reported that later this week a Pentagon meeting with Defense Secretary Jim Mattis, Secretary of State Mike Pompeo and National Security Advisor John Bolton would discuss future defensive cooperation with South Korea under the countries' alliance.
The Associated Press contributed to this report.