Pence visits FEMA headquarters as Trump defends response to Puerto Rico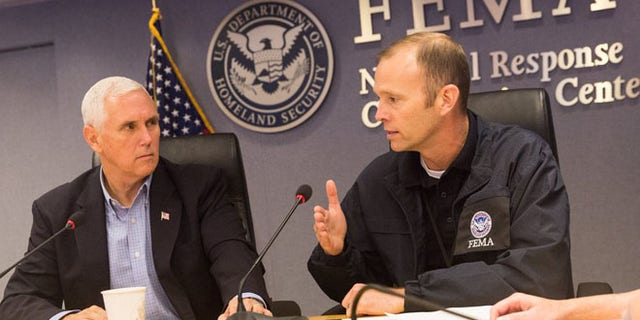 NEWYou can now listen to Fox News articles!
Vice President Mike Pence on Saturday visited FEMA headquarters in Washington for briefings on recovery efforts in Puerto Rico and the Virgin Islands, as President Trump defends the administration's response to the territories after Hurricane Maria.
".@POTUS sent me to @FEMA today for briefing on progress in Puerto Rico & VI," Pence tweeted Saturday. "Proud of our team and all first responders across PR & VI."
The vice president tweeted photos of him speaking with FEMA staff and meeting with the agency's administrator, Brock Long.
The Trump administration has tried in recent days to combat the perception that he failed to quickly grasp the magnitude of Maria's destruction and has given the U.S. commonwealth less attention than he'd bestowed on states hit by Harvey and Irma.
"Despite the Fake News Media in conjunction with the Dems, an amazing job is being done in Puerto Rico," the president tweeted Saturday. "Great people!"
Trump has pledged to spare no effort to help Puerto Rico recover from Maria's ruinous aftermath, and tweeted that military personnel and first responders have done "an amazing job," despite having "no electric, roads, phones etc."
On Saturday, the president lashed out at the mayor of San Juan and other officials in storm-ravaged Puerto Rico, contemptuous of their claims of a laggard U.S. response to the natural disaster that has imperiled the island's future.
"Such poor leadership ability by the Mayor of San Juan, and others in Puerto Rico, who are not able to get their workers to help," Trump said in a series of tweets a day after the capital city's mayor appealed for help "to save us from dying."
"They want everything to be done for them when it should be a community effort," Trump wrote from his New Jersey golf club.
The tweets amounted to a biting response to San Juan Mayor Carmen Yulin Cruz, who had accused the Trump administration of "killing us with the inefficiency" after Hurricane Maria. She implored the president, who is set to visit the U.S. territory on Tuesday, to "make sure somebody is in charge that is up to the task of saving lives."
The Associated Press contributed to this report.