Pence plays Trump's loyal VP across Midwest, amid White House controversies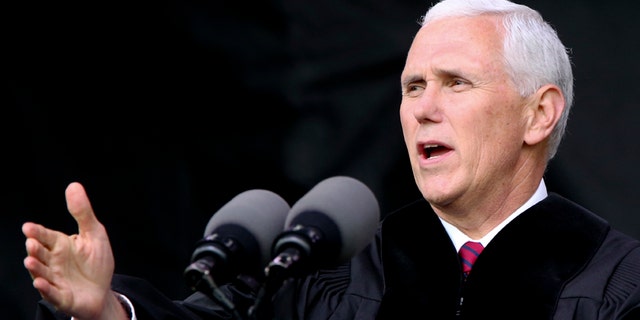 NEWYou can now listen to Fox News articles!
Vice President Pence kept a busy Saturday while President Trump was overseas, espousing the president's leadership in a college commencement speech and urging Americans to thank U.S. military personnel.
"If you see a member of the Armed Forces on Armed Forces Day … reach out and say, 'Thank you for your service,' " Pence said at Wright Patterson Air Force Base, in Ohio.
"I couldn't be more proud to work for a president who is so dedicated to the armed services. President Trump is overseas renewing the United States' role as a leader among allies. … Serving with him every day, I know Trump will be the best friend the Armed Services will ever have in the White House."
Pence spoke just days after published news reports about him starting a so-called leadership PAC -- amid speculation he was using the group for 2020 White House run.
The group will in fact be used to cover Pence's travel to promote Republican candidates during the 2018 congressional midterm races.
Sources have dismissed the speculation about a presidential bid, amid Trump's tumultuous start and such a move being unusual for a vice president.
Early Saturday, Pence urged graduating students at Grove City College, in Pennsylvania, to become leaders and cited Trump's "leadership and perseverance" as an example.
Trump on Saturday was in Saudi Arabia for the start of a nine-day overseas diplomatic trip, his first such since taking office in January.
"If you aspire to lead, you'll need courage, because leadership brings both honor and opposition," Pence told hundreds of graduates and their families Saturday at the commencement.
Pence later in the day, Pence travelled to his home state of Indiana, where he is scheduled to give the commencement speech Sunday at Norte Dame University, in South Bend.
Grove City is a private, Christian liberal arts college with about 2,500 students and about 50 miles north of Pittsburgh.
"Anyone who dreams big will encounter those who think small. Anyone who dares to step forward will find those who'd rather they stay put. And anyone who thinks they can will always hear from those who are sure they can't," Pence said in his commencement speech.
He also cited Trump as "an example of leadership and perseverance" to applause from the crowd, citing the president's efforts on the economy, education, security and -- to more applause -- for standing "without apology for the sanctity of life and all the God-given liberties in the Constitution of the United States."
"But as the president said just about a week ago in a ceremony just like this, 'Nothing worth doing ever came easy,'" Pence said. "Following your convictions means you must be willing to face criticism from those who lack the courage to do what's right,'" the vice president quoted the president as saying.
Pence told graduates to inspire those around them, since people follow those they respect, but they should "aspire to be men and women of character" and aspire to service rather than selfish ambition.
After his address, Pence, who was also awarded an honorary degree, stood on the platform and shook hands as each graduate passed after being handed their diplomas. Officials said the graduating class of 606 was the largest in the school's history.
The Associated Press contributed to this report.