Pelosi's party begins to turn on her after defeats, stagnation
NEWYou can now listen to Fox News articles!
Democrat Jon Ossoff finished behind Republican Karen Handel in Georgia's special House election on Tuesday night, but the real loser could turn out to be House Minority Leader Nancy Pelosi.
While Pelosi is in no immediate danger of losing her House perch, she's increasingly becoming the face of a period of Democratic stagnation that's seen a once-mighty majority systematically deteriorate during her tenure.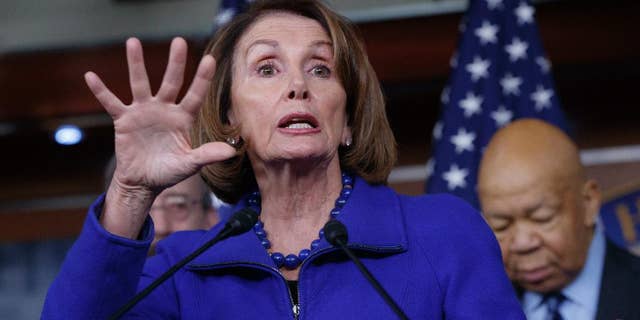 "I think you'd have to be an idiot to think we could win the House with Pelosi at the top," Rep. Filemon Vela, D-Tex., bluntly told Politico. "Nancy Pelosi is not the only reason that Ossoff lost, but she certainly is one of the reasons."
As Speaker of the House in 2009, Pelosi presided over a 255-seat majority which was wiped out by the next election, when Democrats fell to 193 seats. In three election cycles since then, Pelosi's party has netted a single House seat.
Those seeking to be part of the next Democratic majority are already seeking separation from Pelosi.
Democrat Joe Cunningham, running to unseat Republican Mark Sanford in South Carolina, tweeted soon after announcing his candidacy: "If elected, I will not vote for Nancy Pelosi for speaker. Time to move forward and win again."
And those calls are coming from Washington, D.C., too.
Rep. Kathleen Rice, D-N.Y., told CNN "we need a leadership change. It's time for Nancy Pelosi to go, and the entire leadership team."
Rep. Tim Ryan, D-Oh., who ran against Pelosi in the last leadership election, didn't invoke his former rival by name, but did by association, saying the Democratic product has grown spoiled and rotten in recent years.
"Here is the truth: the Democratic Party has a toxic brand, one that is worse than Donald Trump's in many parts of the country," Ryan wrote in a Medium post.
Pelosi is in an undeniably tough spot. Her longevity and leadership position makes her tough to unseat; however, it also makes her a target for the more progressive wing of her party that is upset with those in so-called "establishment" posts. And her unpopularity with Republicans of conservative and moderate stripes has made her an easy anchor to tie Democratic candidates to in competitive races.
"I certainly hope the Democrats do not force Nancy P out. That would be very bad for the Republican Party – and please let Cryin' Chuck stay!" President Trump tweeted on Thursday, also referencing Senate Minority Leader Chuck Schumer.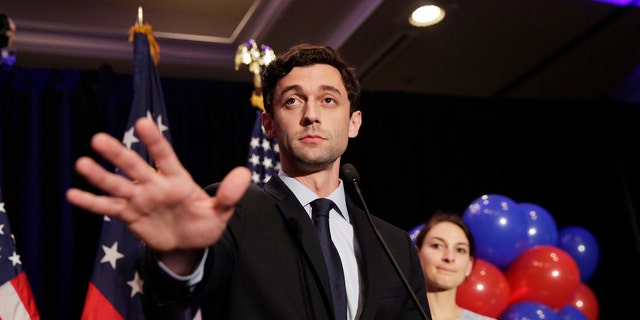 The schadenfreude among GOP leaders wasn't limited to Trump's Twitter feed, either.
"I hope they keep Nancy for 10 more years. At least another decade," former House Speaker Newt Gingrich told "Fox & Friends" on Thursday. "We have all the ads done. They worked perfectly in Georgia. We know how to run against a Nancy Pelosi-run party."
A source close to Pelosi told Fox News the criticism "bothers her," particularly as it's coming from all angles, as opposed to any attacks she faced after the November elections.
"But this is different," said one source. "Death by a thousand cuts."
One senior House Democratic member told Fox News: "There's going to be discontent, but it's more pronounced now. There is some angst about the elections."
Pelosi, first elected in 1987 from her California district, has sought to stop the landslide beneath her feet by emphasizing the positive takeaways from the highly competitive Georgia race, which Democrats poured money and time into in hopes of dealing President Trump a high-profile defeat. In a "Dear Colleague" letter obtained by The New York Times, Pelosi, who has resisted all calls to step aside, spoke of a unifying message "we can all embrace and utilize in our districts." During a recent caucus meeting, Pelosi also said the shooting of House Majority Whip Steve Scalise by a disgruntled Democratic voter may have contributed to the Georgia loss, Politico reported.
But the spin being deployed by Pelosi and others in leadership is growing tougher to digest for some in the House.
"It was probably one of the more disturbing caucus meetings that I've ever been in," Rice told Politico. "And everyone pretty much sat in silence, and I'd like to think that they were as shocked as I was that they were hearing the spin that was being put on this loss."
Fox News' Chad Pergram contributed to this report.