Pelosi Calls for Ethics Probe Into Wu Sex Allegations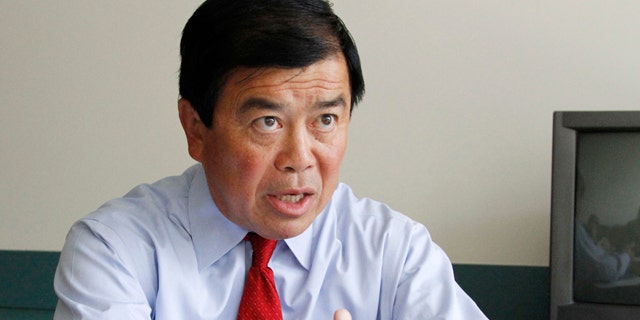 NEWYou can now listen to Fox News articles!
House Democratic Leader Nancy Pelosi Sunday called for an ethics panel investigation of Rep. David Wu following a published allegation that a young woman reported he'd engaged in "aggressive and unwanted sexual behavior."
The Oregon Democrat has been facing calls to resign, but remained silent Sunday over the allegation.
In a statement Sunday night, Pelolsi asked the "Ethics Committee to initiate an investigation into the allegations against Congressman Wu."
Pelosi had a telephone conversation with Wu Saturday but neither politician disclosed any details.
The Democratic leader says she will send a letter to leaders of the Republican-led House Monday formally asking for the probe.
Wu's only response so far was a brief statement Friday that called the reports serious.
Earlier Sunday, his spokesman, Erik Dorey, said he couldn't comment on what Wu did on Sunday, or who he might have consulted.
Spokesmen for both Gov. John Kitzhaber and the statewide party organization said Wu hadn't reached out to top Democrats in Oregon.
"At this point, I don't believe those conversations have happened," said Trent Lutz, executive director of the state party.
Lutz and other party members said they hoped Wu would respond directly to the allegation reported by the Oregonian newspaper. The paper quoted sources who said a young woman left voicemail at Wu's Portland office earlier this year accusing him of an unwanted sexual encounter three weeks after last year's election.
In Wu's district stretching from downtown Portland to the Pacific Ocean in northwest Oregon, county-level leaders said they, too, were hoping for more from Wu.
"I'm waiting for more details to come out," said Cris Land, party chair in Columbia County.
The heart of the 1st Congressional District is Washington County, a center of high tech and suburban development and the home of David Robinson, a former Navy officer and municipal official who lost by a margin of 4-1 to Wu in the Democratic primary last year. Wu faces primary challengers next year, as well.
Robinson said Sunday he will ask fellow activists in Washington County on Wednesday to approve a vote of no confidence in Wu, calling the woman's allegation "just another in a long line of disappointments and improprieties."
Wu has won seven terms. In 2004, he won despite acknowledging a decades-old college incident in which he tried to force a former girlfriend to have sex. Voters said they disliked an opponent's attempt to use that against Wu.
In January this year, seven staffers resigned because of behavior that included sending a photo of himself in a tiger costume to a staff member and an angry public speech. Wu attributed those to a period of mental health challenges that began in 2008 as marital issues led to separation from his wife.