Pelosi-buster: House Democratic leader speaks for record 8 straight hours demanding immigration vote
House Minority Leader Nancy Pelosi, D-Calif., held the floor of the House of Representatives for more than eight hours Wednesday to deliver a record-breaking marathon speech protesting a budget deal reached by Senate leaders.
Clad in four-inch heels, Pelosi spoke for eight hours and seven minutes and was given a standing ovation by her Democratic colleagues when she yielded the floor at 6:11 p.m.
"When you're out there talking, it seems shorter," Pelosi told reporters as she came off the floor. "When you're listening, it seems longer."
In her remarks, Pelosi announced that she and many fellow House Democrats would oppose the spending package unless House Speaker Paul Ryan, R-Wis., promised to allow a vote on a plan to shield from deportation hundreds of thousands of immigrants brought to the U.S. illegally.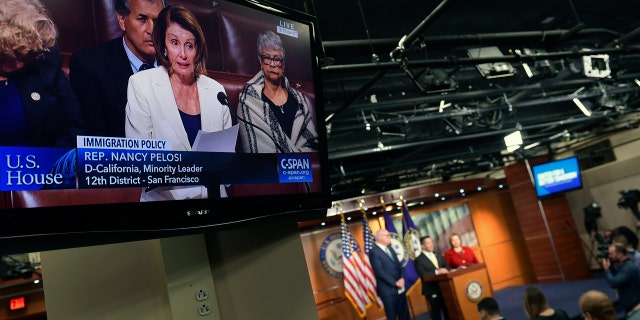 "Let Congress work its will," said Pelosi, who noted that Senate Republicans have slated a debate on the politically freighted subject starting next week. "What are you afraid of?"
According to the House historian's office, Pelosi appeared to have set a record for the longest continuous speech in the chamber's history. The previous record, of five hours and 15 minutes, was set by Rep. Champ Clark, D-Mo., in 1909.
Pelosi's speech would not have come close to the length of the 10 longest filibusters in Senate history. The most recent notable filibuster came in April 2017, when Sen. Jeff Merkley, D-Ore., spoke for 15 hours and 28 minutes in opposition to the nomination of Neil Gorsuch to the Supreme Court.
In 2013, Sen. Ted Cruz, R-Texas, delivered the longest filibuster in 60 years when he spoke for 21 hours and 18 minutes against a bill to end the 2013 government shutdown in an effort to defund ObamaCare.
Pelosi's speech was not considered a filibuster, which can take place only in the Senate. However, House leaders are often granted extra time to speak on the floor, a privilege known as the "magic minute." For example, then-Minority Leader John Boehner spoke for more than an hour against a cap-and-trade bill that passed the House in 2009.
President Trump moved to end former President Barack Obama's Deferred Action for Childhood Arrivals (DACA) program last year, giving Congress a March 5 deadline to pass legislation to replace it. However, a federal judge has indefinitely blocked Trump from terminating the program's protections, blunting the deadline's immediate impact.
"You see, these people are being deported," Pelosi said at one point, taking out a tissue. "We can do something today to at least make whole the children."
Her speech drew little reaction from Republicans, except for a tweet from the Republican Congressional Congressional Committee.
"Dear @NancyPelosi," it read. "Every minute you're in front of the cameras, you make our job easier."
House Majority Leader Kevin McCarthy, R-Calif., joked that he thought the speech would "make her Wikipedia page. It's her biggest accomplishment this year."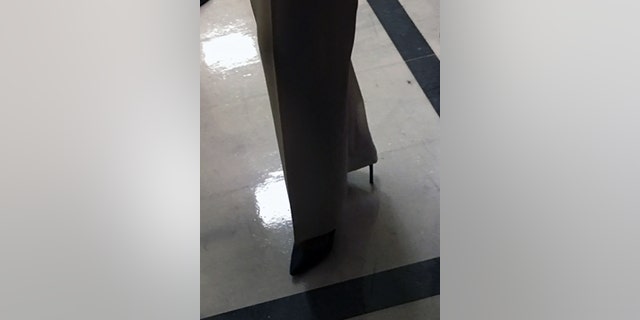 McCarthy also questioned whether Pelosi would vote against the budget package after she was allegedly privy to negotiations among congressional leaders.
"I don't understand if you have four leaders agree to a bill, why do you get to negotiate if you're not going to vote for the bill?" McCarthy asked. "And why would she agree to it? There's a responsibility."
Even as Pelosi announced that the agreement "does not have my support, nor does it have the support of a large number of members of our caucus," Senate Democratic Leader Chuck Schumer called the agreement the "best thing" lawmakers could have done for the middle class.
"The budget deal doesn't have everything Democrats want, it doesn't have everything the Republicans want, but it has a great deal of what the American people want," Schumer said on the Senate floor, later adding, "And now we must finish the job. Later this week, let's pass this budget into law alongside an extension of government funding. I hope the House will follow suit and President Trump will sign it."
Pelosi admitted afterward that she had "no idea" how members would vote on the budget package, but said her speech "was about one subject."
"We achieved the recognition of what the Dreamers mean to America," she said.
Fox News' Chad Pergram and The Associated Press contributed to this report.