Parting shots: At unruly rally, Trump says New Mexico Gov. Martinez 'not doing the job'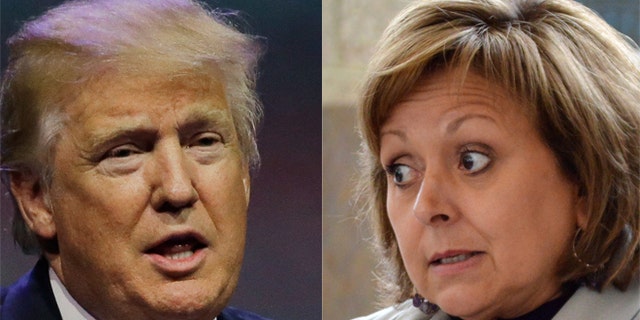 NEWYou can now listen to Fox News articles!
While he has pledged to unify the GOP after becoming its presumptive presidential nominee, Donald Trump is slamming New Mexico's Republican Gov. Susana Martinez, saying the country's first Latina governor is "not doing the job."
During a rally in Albuquerque, the billionaire businessman ripped into Martinez for New Mexico's economic woes – like a dramatic increase in residents receiving food stamps over the past 16 years – and for permitting "large numbers" of Syrian refugees to resettle in the state, despite governors having little control over the federal program.
"If I was governor, that wouldn't be happening," Trump said, according to the Washington Post.
In response to the attacks, Martinez's press secretary, Mike Lonergan, said that the real estate tycoon's comments were misleading and that the New Mexico governor won't be forced into supporting Trump.
"Apparently, Donald Trump doesn't realize Gov. Martinez wasn't elected in 2000, that she has fought for welfare reform and has strongly opposed the president's Syrian refugee plan," Lonergan said in a statement. "But the pot-shots weren't about policy, they were about politics. And the governor will not be bullied into supporting a candidate until she is convinced that candidate will fight for New Mexicans. Gov. Martinez doesn't care what Donald Trump says about her – she cares about what he says he will do to help New Mexicans. She didn't hear anything about that today."
Martinez, considered a rising star in the GOP and one frequently mentioned as a possible vice presidential candidate, has in the past dodged questions about supporting Trump's presidential run, but has been critical of the candidate's rhetoric toward immigrants. Last month, she called Trump's plan to build a wall along the border and force Mexico to pay for it unrealistic and irresponsible.
As to why she did not attend Trump's rally at the Albuquerque Convention Center, Martinez told local media that she was "really busy."
"I'm the governor of New Mexico, and I'm really focused on what's going on here in New Mexico," Martinez said, according to the Albuquerque Journal.
Trump's rally was marred by violent protests as demonstrators clashed with police outside the convention center, and there were numerous interruptions during the candidate's speech.
At one point, a female protester was physically dragged from the stands by security. Other demonstrators scuffled with security as they resisted removal from the Convention Center, which was packed with thousands of loud and boisterous Trump supporters.
The reality TV star responded with his usual bluster, instructing security to remove the protesters and mocking their actions by telling them, "Go home to mommy."
Albuquerque attorney Doug Antoon said rocks were flying through the Convention Center windows as he was leaving Tuesday night. Glass was breaking and landing near his feet.
"This was not a protest, this was a riot. These are hate groups," he said of the demonstrators.
Albuquerque police said several officers were treated for injuries after getting hit by rocks. At least one person was arrested, police said.
The Associated Press contributed to this report.
Like us on Facebook
Follow us on Twitter & Instagram