Parties each claim superior ground game in critical closing days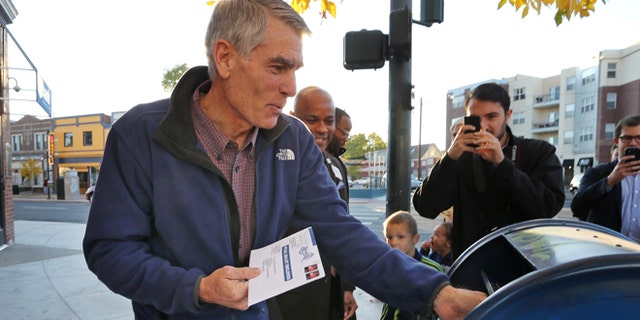 The hard-fought Senate races in which Democrats and Republicans have sparred over practically everything from the economy to campaign strategy resumed Sunday, with each party boasting about having the superior ground game so important in the final days of the election cycle.
"I think we're going to hold the Senate," Democratic National Committee Chairwoman Debbie Wasserman Schultz told ABC's "This Week."
She added that "the reason that we're going to hold the Senate is because we have a ground game" that Washington Republicans would take over theirs "any day of the week."
Republican National Committee Chairman Reince Priebus disagreed and argued Democrats' problems go beyond voter contact.
"Their message isn't working," he told ABC. "Our ground game is whipping their ground game."
With just two days before voters go to the polls, campaigns across the country are holding final rallies, knocking on doors, using social media and other ground game tactics to reach the remaining undecided voters and those still not interested in casting a ballot.
"We've got early-vote numbers that are up in the most competitive states, in the most competitive districts all across the country," Wasserman Schultz continued.
However, that does not appear to be the case in Colorado where Republicans are taking a big lead in early voting.
A report from the secretary of State on Friday showed that 104,000 more Republicans than Democrats had cast their ballots as the state conducts its first major mail-in election.
Democrats and some observers expect that lead to shrink by Election Day. But more than half the ballots are in, and the filing suggests how difficult it might be for Democratic incumbents such as Colorado Sen. Mark Udall to survive a year in which Republicans are highly motivated.
His race against Republican challenger GOP Rep. Cory Gardner is among the most competitive in the county and one of several that will decide whether Republicans take control of the Senate.
"We're winning Hispanic voters in Colorado," Priebus said. "We're whipping them in Arkansas. We are at a dead even early vote right now in Iowa."
He argued Republicans are also already ahead in key Senate races in Montana, West Virginia and South Dakota.
"We're going to have a great night," Priebus said.
Said Wasserman Schultz: "I'll stack up our ground game against Reince's ground game."
The Associated Press contributed to this report.