Palin Appearance at 'Rolling Thunder' Feeds Election Speculation Fury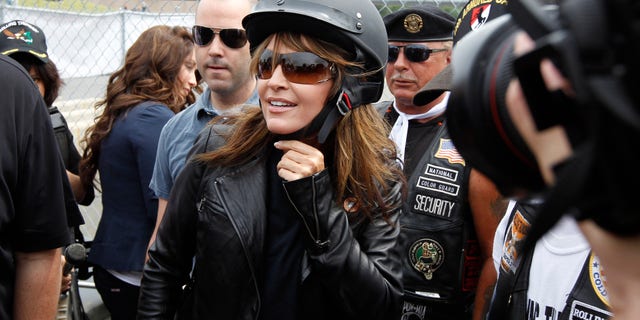 NEWYou can now listen to Fox News articles!
Sarah Palin could win the Republican nomination and defeat President Obama, Sen. John McCain said Sunday as his former vice presidential running mate fueled 2012 speculation by appearing at the annual Memorial Day rally on the National Mall.
"Of course she can, she can. Whether she will or not, whether she'll even run, I don't know," McCain, R-Ariz., told "Fox News Sunday." "She certainly is a major factor. And I believe that she can be very competitive."
Palin's participation in the annual Memorial Day parade in Washington, D.C., has fueled as much noise about a potential presidential candidacy as the thousands of motorcycle-riding veterans participating in the Rolling Thunder ride-along Sunday.
At the Pentagon parking lot where the mob of veterans and their families pre-positioned for the thunderous two-wheeler march down Constitution Ave, Palin, who did not address the Memorial Day crowd, said she was thrilled to participate.
"I love that smell of the emissions," she said, donning sunglasses and a Harley Davidson skullcap-style, black helmet.
Despite her low-key role, her presence is notable for the short notice and speculative chatter it has generated. Her appearance is part of the "One Nation" tour she announced just days ago on her SarahPAC.com website.
"It's imperative that we connect with our founders, our patriots, our challenges and victories to clearly see our way forward. A good way to do this is to appreciate the significance of our nation's historic sites, patriotic events and diverse cultures, which we'll do in the coming weeks on our 'One Nation' tour," she wrote, leaving open for debate any guess on her plans.
In recent polling, Palin scores at or near the top of GOP 2012 presidential hopefuls -- all without stating her plans. The Rolling Thunder parade attracts about 500,000 participants each year, and is a great place to go trolling for votes if she were setting up a bid.
"I'm glad she's here and she can ride on the back of my bike if she wants," one young rider told Fox News.
"I think her coming out shows a great support for the veterans which we haven't seen so far, either," a female biker said. "I think this will make a big difference in the minds of the veterans because there's a lot of us, you know, and it's important that we never forget them."
Asked by a man in the crowd if she was running, Palin responded, "Don't know yet."
Not all veterans at Sunday's staging were thrilled by Palin's presence, less so because of the politician she is, but because the event is meant to honor service members missing and killed in action.
"If she's here to support us and our troops, past, present and the ones that's name's written on the wall, that's fine. This is not a political event other than to call attention to the accounting of our MIAs, KIAs that have not been brought home," said one veteran.
Distant from the sweaty mosh pit of military members and supporters, pundits and lawmakers offered varying degrees of uncertainty about whether the former Alaska governor was attending the parade as a prelude to announcing a presidential bid.
McCain said if Palin runs, she will have to endure the endless viciousness she's encountered since popping on the national scene in September 2008.
"I've never seen anyone as mercilessly and relentlessly attacked as I have seen Sarah Palin in the last couple of years. But she also inspires great passion, particularly among Republican faithful," he told "Fox News Sunday."
If Palin does decide to make a go of it, she's behind the curve in preparedness. She has no bundlers set up to raise money for a campaign, no district offices in key primary states like Iowa to build the buzz on a candidacy, and she has done little to draw attention to herself in recent months.
"She's done nothing that would suggest to me that she's laying the groundwork for action running for the presidency," said Bill Kristol, publisher of "The Weekly Standard" and a Fox News contributor.
"She carries her cards very close to her vest," said Nina Easton, a "Fortune" magazine writer and also a Fox News contributor. "But I don't see any moves towards, you know, all that slog of a presidential campaign. She hasn't visited Iowa, South Carolina, New Hampshire. She's visiting New Hampshire this week. She's not reaching out to fund-raisers and so on."
But Donna Brazile, the campaign manager for former Vice President Al Gore's 2000 presidential bid, told ABC's "This Week" that Palin doesn't operate according to anyone else's rules.
"She doesn't need to run by the rules established by the Republicans. She can run simply on her own timetable, when she feels like, and she doesn't have to follow conventional wisdom. I think she's running. She sees a big opportunity," Brazile said.