Outgoing Air Marshals director signed 'settlement agreement' with TSA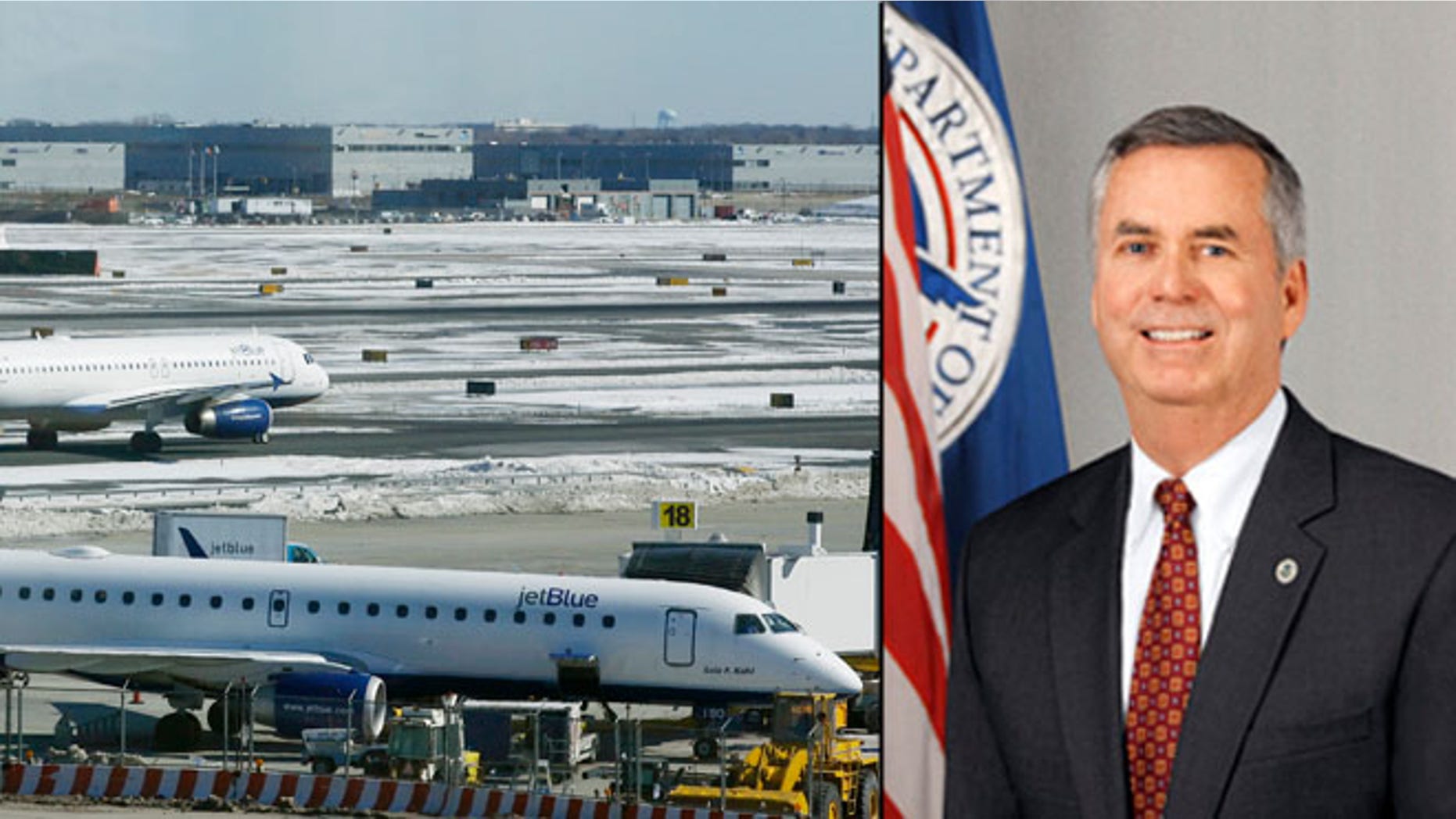 EXCLUSIVE: Amid an ongoing probe into an alleged gun selling operation within his agency, outgoing Federal Air Marshal Service (FAMS) Director Robert Bray struck a settlement that included a provision to suspend any possible disciplinary actions against him, according to a letter from the head of the Transportation Security Administration.
"I am aware of the allegations within the FAMS, including those involving the Director, and believe them to be subject to appropriate investigation," said the April 18 letter by Administrator John S. Pistole to Rep. Richard Hudson, chairman of the Subcommittee on Transportation Security. The letter went on to say that while the overall investigation remains ongoing, Bray "has entered into a settlement agreement, which includes a provision to hold in abeyance any potential disciplinary actions."
FoxNews.com obtained Pistole's letter, written in response to an April 10 letter by Hudson expressing his concerns about the investigation, Bray's alleged involvement and whether his impending retirement was related to the ongoing probe.
Reached for comment, Bray attorney Ken Cuccinelli released a statement saying the agreement was struck after his retirement announcement.
"After nearly 40 years of unblemished service in law enforcement, Mr. Bray announced his retirement on March 31st," Cuccinelli said. "Several days after Mr. Bray's retirement announcement, a representative from the TSA Office of Chief Counsel approached Mr. Bray about entering into a mutual hold-harmless agreement in which both sides waived any potential claims against the other and set down the timeline of Mr. Bray's retirement."
Sources familiar with the investigation told FoxNews.com TSA and FAMS management have been trying to keep agency employees from talking about a litany of allegations of improper conduct now under investigation, including the now-public reports of the gun operation, first reported by FoxNews.com.
Pistole's letter said the probe started with a tip in March 2013 to the Department of Homeland Security Office of Inspector General (OIG), with information that a "Federal Air Marshal (FAM) was purchasing and selling guns without a license to coworkers." From there, Pistole wrote, the OIG referred the information to TSA's Office of Inspection for investigation.
The operation, whistleblowers have claimed, involved Air Marshal Supervisor Danny Poulos.
Poulos, now on administrative leave, is accused of improperly using his relationship with weapons manufacturer Sig Sauer to obtain discounted firearms and provide them to agency personnel, including Bray.
TSA officials have confirmed Bray did buy weapons from the supervisor, but did so legally and with "no knowledge" they may have been "ill-gotten." Bray also told CNN that he bought the guns from the supervisor, and denied his retirement was related to the ongoing investigation.
Pistole's letter stated that on March 18 of this year, TSA's deputy administrator was briefed that the investigative work pertaining to the director "had been completed," and was handed over for "review and adjudication." Pistole said he learned about that information the same day.
A TSA spokesman declined to comment on the letter when reached by FoxNews.com.
On March 31, Bray sent an agency-wide email announcing his departure with the subject line "Personal Message from Director Bray."
"Many of you have heard me talk about the importance of change and how vital it is to keep any agency moving forward," he wrote. "Therefore, I need to practice what I preach and so effective June 28th, I am going to retire from Federal service.  I have no plans except to spend time with my wife and family, without whose love and support I could not have had such a great, long career."
To reach this reporter email jana.winter@foxnews.com