O'Rourke gets invite from Iowa Democrats, compared to Obama
Rep. Beto O'Rourke, D-Texas, on Monday was invited by the Polk County Democratic Party in Des Moines to visit the state – fueling speculation that the El Paso Democrat is potentially weighing a 2020 presidential run after narrowly losing his bid to unseat Sen. Ted Cruz last week, The Dallas Morning News reported.
O'Rourke hasn't yet responded to the invitation, the report said.
A Morning Consult poll released Monday indicated O'Rourke ranks only behind former Vice President Joe Biden and Vermont Sen. Bernie Sanders as a possible Democratic candidate for president.
BETO O'ROURKE SUPPORTERS ENCOURAGED TO 'RECYCLE' CAMPAIGN SIGNS FOR 2020
Andrew E. Smith, the University of New Hampshire Survey Center, said it was still too early to invest in a O'Rourke candidacy.
"It's probably just a reflection of the media attention he's gotten the last month or so," Smith said.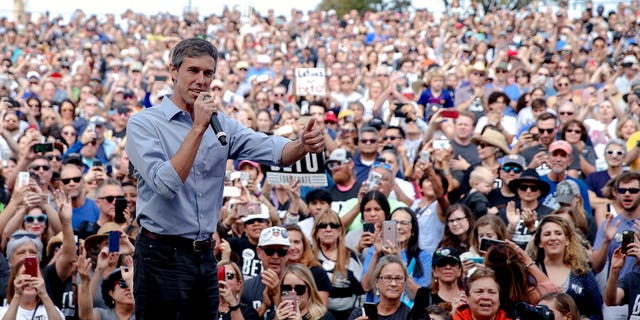 O'Rourke has been coy on a presidential run. On Sunday he sent an email to supporters saying he wants "to be part of the best way forward for this country – whatever way I can help in whatever form that takes."
Sean Bagniewski, the chairman of the Polk County Democrats, said the group would love to host O'Rourke.
"He was unapologetically progressive. He's a young face. He wasn't afraid to be himself. Democrats are often very poll tested, very consultant-driven," he said. "He was more authentic in a way that people haven't seen since Barack Obama, so he connected with people nationwide in ways that some of our more cautious leaders haven't."
DOZENS OF DEMS MULLING WHITE HOUSE CAMPAIGNS, AS WIDE-OPEN 2020 CONTEST RAMPS UP
Bret Niles, the Democratic chair in Linn County, Iowa, said Iowa Democrats were rooting for O'Rourke to take down Cruz.
"A lot of people in Iowa would look forward to meeting him," Niles said. "Most people are looking for a progressive. If he came out he could be a contender, but it depends on who else runs."