Oregon county lets sheriff ignore 'unconstitutional' gun laws, raising legal questions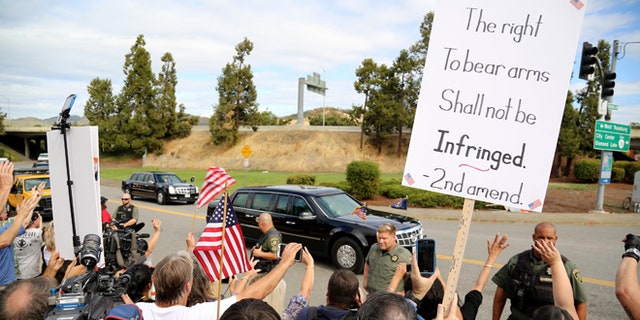 NEWYou can now listen to Fox News articles!
An Oregon county has approved a controversial measure giving the local sheriff discretion to ignore gun laws he deems unconstitutional -- potentially putting the sheriff in the middle of a Second Amendment battle and raising legal questions that may have to be resolved in court.
While overshadowed by high-profile ballot measures elsewhere on marijuana and other issues, residents in Coos County, Ore., overwhelmingly passed the gun rights measure last week with more than 60 percent support.
The central reason for the initiative was to prevent enforcement of the state's new background check law. Sheriff Craig Zanni already was steering clear of actively enforcing the law, but the ballot measure puts additional pressure on him to defy state and federal gun laws.
It bars the county from using government resources to enforce any "unconstitutional" laws that infringe on the right to bear arms -- and declares "it shall be the duty" of the sheriff to decide which laws are constitutional and which are not.
Even Zanni has voiced concerns over what he's legally allowed to do.
Zanni told The Oregonian he is a strong supporter of gun rights, but predicted before the vote that the matter would end up in court.
"I'm not sure the courts would agree with that concept," he said. "I would just bet there would be some legal challenges to it."
At the time, Zanni said he didn't plan to change his approach if the measure passed. One commissioner told the newspaper that passage would put the local government in an "awkward spot."
When reached by FoxNews.com on Monday, Zanni declined to comment in depth about the next steps. He stressed only that "this was an initiative put together by citizens of this county to address what they felt is a constant attack on their rights."
The vote came after the mass shooting at Oregon's Umpqua Community College, about 60 miles east of Coos County.
Ballot initiative sponsor Rob Taylor, a retired optician, told The Daily Signal they're hoping for a court challenge.
"One of the reasons we enacted this measure is that we wanted to challenge [the state's] background check law through the judicial process," he said.
While analysts question whether any local jurisdiction can really decide what's constitutional, the measure itself calls for a maximum $2,000 fine for violating it.
This isn't the first time a county's tried to pass similar ordinances, though the Coos County "Second Amendment Preservation Ordinance" lays out a detailed set of guidelines.
It prohibits enforcement of measures ranging from registration requirements for legally owned guns to restrictions on semi-automatic weapons.
But the main target of the measure is the state's new background check law. According to The Oregonian, Zanni to date has said he's not actively looking for violations of that law -- but also has not ruled out the possibility a resident could be prosecuted for breaking it.
It's unclear whether the new ballot measure might compel the sheriff to rule out that possibility entirely.
Andrew Kloster, a legal fellow at The Heritage Foundation, told The Daily Signal that a sheriff has to follow state law -- but at the same time, citizens could pursue a lawsuit if a state law requires local officials to violate the Second Amendment.
FoxNews.com's Ross Powers contributed to this report.