Oprah's friend and self-help guru Marianne Williamson says she's considering a 2020 presidential bid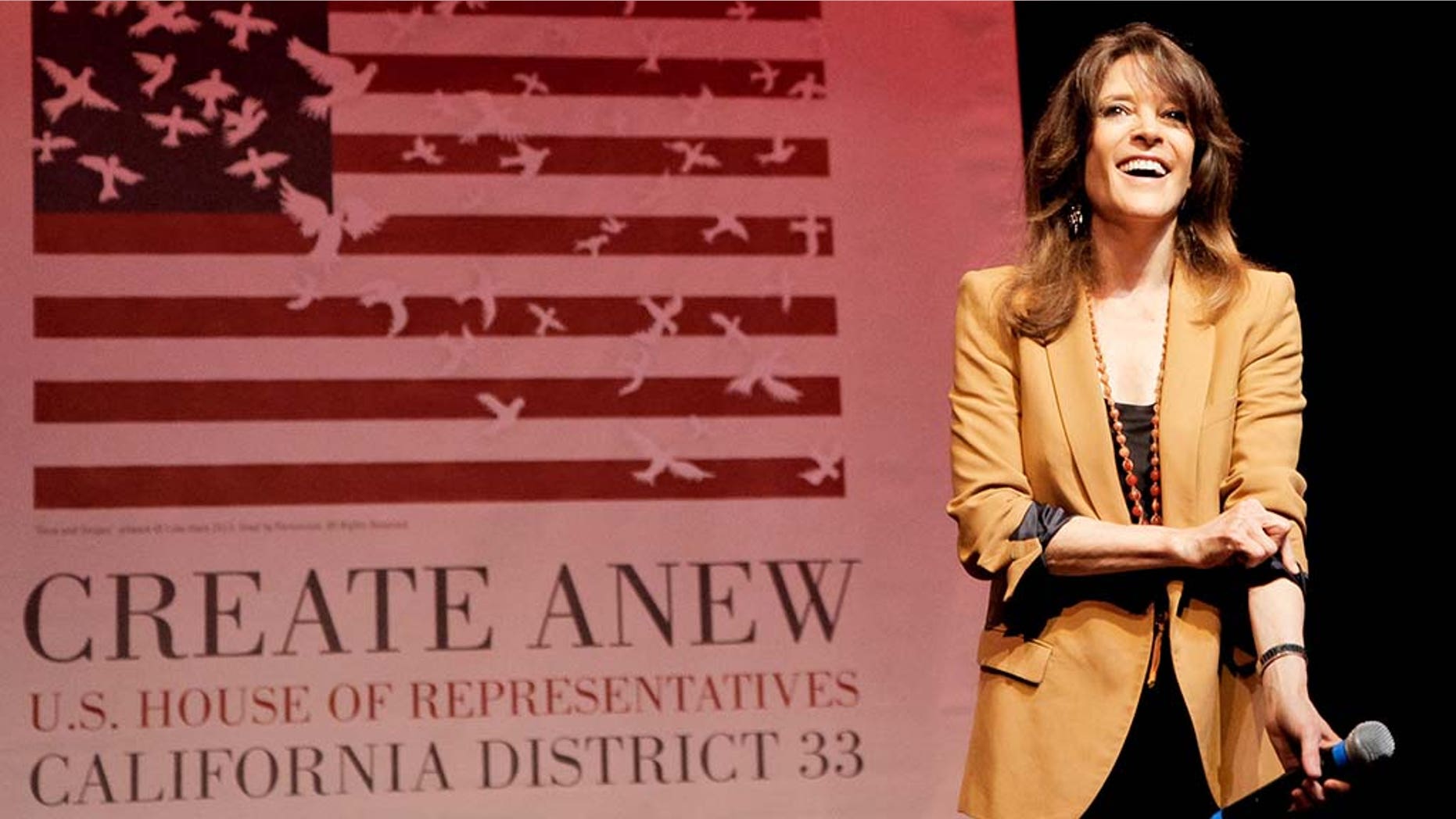 Marianne Williamson, author and self-help guru, announced she's considering running for president in 2020.
Williamson, 66, revealed Thursday she's formed an exploratory committee regarding the possibility of running as a Democrat in 2020.
"We had a miracle in this country in 1776, and we need another one," Williamson said in a video message, arguing the U.S. is not "functioning as a government of the people, by the people and for the people."
"We need to get our country back on track, our government back on track, back to an ethical center that is the true exceptionalism of the American ideal," she added.
She said she has plans to travel to Iowa – a key state for presidential elections – later this month.
Williamson is the author of multiple bestselling books, including "A Return to Love." She is also the founder of Project Angel Food, a program that serves meals to homebound people with AIDS in Los Angeles. She was a frequent guest on Oprah Winfrey's talk show.
JEFF MERKLEY PUSHES FOR OREGON LAW CHANGE TO RUN FOR BOTH SENATE AND PRESIDENT IN 2020: REPORT
She is no stranger to politics. She ran for Congress in California in 2014, and although she lost, she had a bevy of endorsements from both celebrities and high-profile Democrats. Artist Alanis Morissette even wrote her campaign's theme song.
During her campaign, LA Weekly described Williamson as "some 'West Wing' character sprung to life." Her agenda focused on stopping the Keystone pipeline, overturning Citizens United, opposing the Trans-Pacific Partnership and ending drone strikes, according to LA Weekly.
In the 2016 presidential election, Williamson supported progressive Sen. Bernie Sanders, I-Vt., in his quest for the Democratic nomination for president.
BLOOMBERG RE-REGISTERS AS DEMOCRAT AMID RUMORS OF 2020 PRESIDENTIAL RUN
As for her qualifications for the White House, Williamson said her "35-year career addressing the personal crisis of millions of individuals" gives her the "unique qualification to help create the spiritual awakening that will transform the crisis we are facing now."
Only a few people have announced their intentions to run for president in 2020 – including West Virginia state Sen. Richard Ojeda – although there's been plenty of speculation about potential bids from Democratic Sens. Elizabeth Warren, Cory Booker and Kamala Harris. Sen. Jeff Merkley, also a Democrat, is reportedly pushing Oregon to change its laws so he can run for both president and senator in 2020.
There have been rumors that Winfrey herself is considering a presidential run, although she's repeatedly said she doesn't have plans to do so. Earlier this month, she campaigned for Stacey Abrams, the Democratic gubernatorial candidate in Georgia.