One Castro brother endorses Hillary Clinton for president - the other, a possible VP candidate, refrains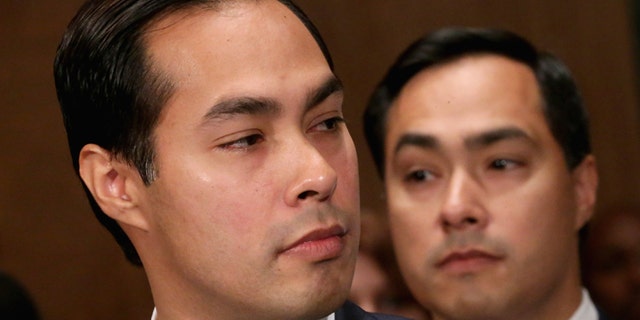 NEWYou can now listen to Fox News articles!
The Castro brother who isn't likely to be named Hillary Clinton's running mate did endorse her for president. The Castro brother who is, didn't. Got that?
There has been much speculation about the vice-presidential prospects of Julián Castro, 40, the former mayor of San Antonio who in July was named Secretary of Housing and Urban Development. The theory went that President Barack Obama was helping get the Democratic rising star a more national profile in preparation for the 2016 presidential election.
On Monday Castro's identical twin brother, U.S. Rep. Joaquín, was quoted in an email blast sent out by the pro-Clinton Super PAC, Ready for Hillary, as saying, "Hillary's the leader I want to see moving into the White House in two years."
The email obtained by the website Politico quoted Castro lauding Clinton profusely. "Hillary has always been a tireless advocate for working families — she's never ceased to make sure everybody has a fair shot at achieving the American Dream," he wrote.
Of course, there is the small stumbling block of Clinton not having declared herself a candidate yet, but the Congressman didn't seem to mind too much. "Hillary needs to know that if she does, millions of grassroots supporters like you will be standing proudly by her side."
Possibly nobody would be closer to her side than Joaquín's brother.
After being tapped to head HUD, Castro went to Bill and Hillary's Washington home for a dinner that included members of their inner circle—an invitation that further fueled running-mate speculation.
But on Tuesday Secretary Castro told Todd Gillman of the Dallas News, "In this position, I'm focused on my work here at HUD. I'm staying out of politics."
At least for the moment.
As for that dinner with the Clintons, Castro claimed it had nothing to do with 2016.
"Not at all," he said. "We had a good conversation about how HUD can work on energy efficiency—perhaps with the Clinton Foundation."
Follow us on twitter.com/foxnewslatino
Like us at facebook.com/foxnewslatino