On 100th Day as President, Obama Glances Back While Pressing Forward With Agenda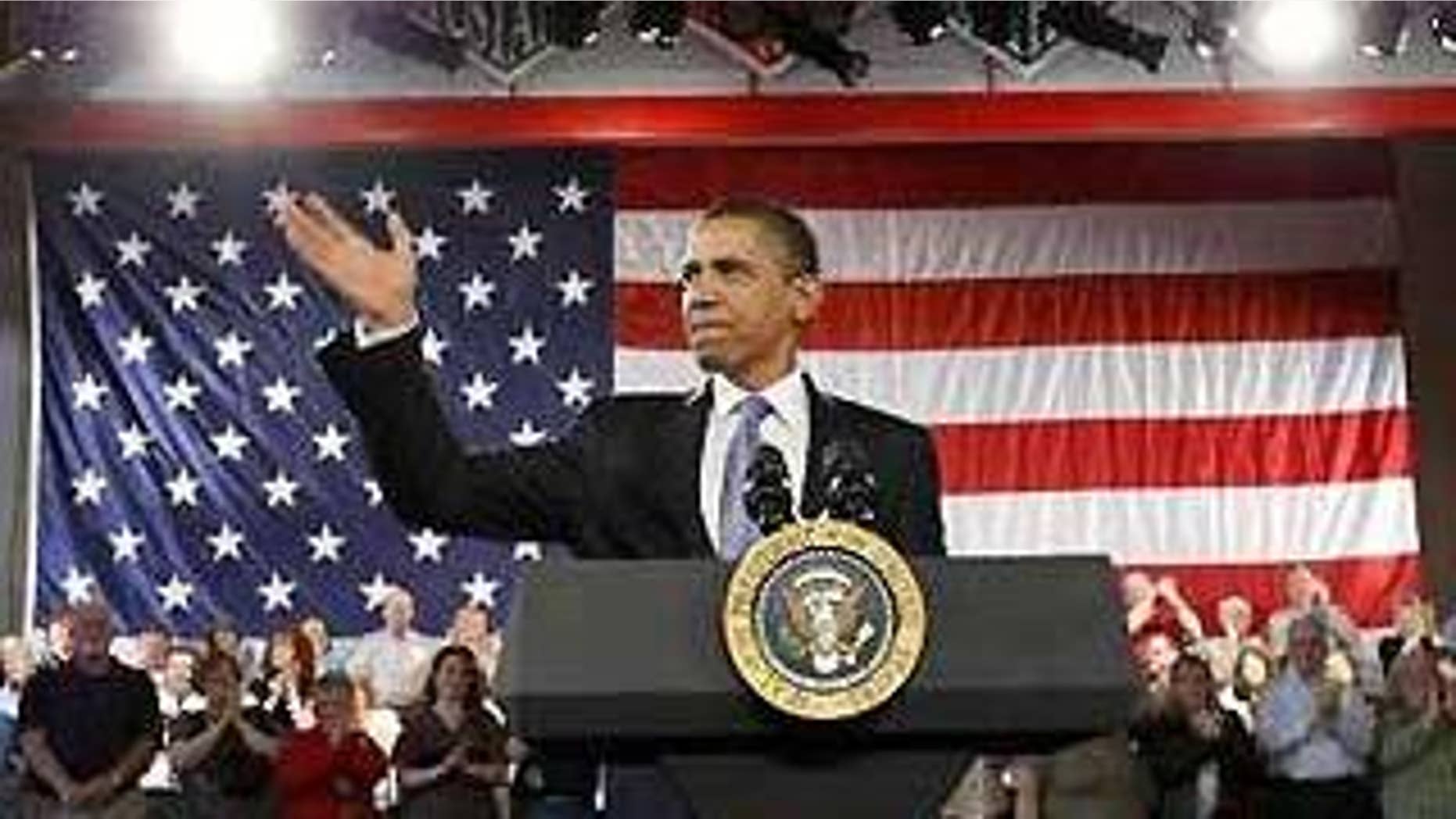 President Obama's aides may downplay his 100th day as the equivalent of a "Hallmark holiday," but the president is not squandering the opportunity to publicly review his first three months in office and guide the narrative of those ahead.
"We are off to a good start. But it is just a start," Obama plans to say Wednesday night, according to prepared remarks. "I am proud of what we have achieved, but I am not content. I am pleased with our progress, but I am not satisfied."
After holding two high-profile events Wednesday, Obama is preparing for a prime-time press conference to mark the end of the opening phase of a presidency that has pressed an ambitious agenda even as it has been hit with mounting domestic and international challenges.
In that context, the sudden flu outbreak that threatens to reach pandemic levels has added to the variety -- but not the intensity -- of challenges being tackled by the young administration, which has fanned out in recent days to assure the public it is taking every precaution to stem the spread of the virus. Obama says the government is taking "utmost precautions and preparations" in his prepared remarks for the press conference.
Obama, meanwhile, continues to highlight his accomplishment in other areas. He spoke Wednesday at a town hall-style event outside St. Louis, where he expressed confidence in his term to date, but signaled he'll need lasting public support to enact other key planks of his agenda.
"We must lay a new foundation for growth," Obama plans to say Wednesday night. "A foundation that will strengthen our economy and help us compete in the 21st century."
In prepared remarks, Obama warns that more jobs and homes will be lost before the recession ends, but he pledges "unrelenting, unyielding" effort from his administration to strengthen American prosperity and security.
With Obama preparing for his third prime-time press conference since taking office, Congress gave him a boost Wednesday by approving a $3.4 trillion budget outline that adheres to his policy priorities. He plans to hail the budget as a key step on the road to recovery Wednesday night.
Watch Obama's press conference live on FOX News Channel at 8 p.m. ET, and visit FOXNews.com for updates. 
Though the White House has made high-level advisers available to the media to highlight the first 100 days, the Obama administration has tried to downplay its symbolism.
"The president isn't focused on the 100th any more than he is the 99th or the 101st," White House Press Secretary Robert Gibbs said.
But the fanfare of the first 100 days is a tradition. Most historians say that President Franklin Delano Roosevelt started it, setting the standard for early accomplishments as the country looked for ways out of the Great Depression.
President Lyndon Johnson pushed through historic civil rights legislation in that window. President Ronald Reagan pushed through big tax cuts.
President John F. Kennedy, though, had qualms with the idea he would be judged on his first 100 days, inserting a line urging patience in his inaugural address.
"All this will not be finished in the first 100 days," Kennedy said at the time. "Nor will it be finished in the first 1,000 days nor in the life of this administration."
But in each four-year term a president gets just 1,460 days to make his mark.
When you consider he needs a day off every now and then, and that he spends much of the last two years of a first term running for re-election, there are good reasons to push for early accomplishments.
In office just three months, Obama enters the next phase of his new presidency with a high job approval rating and a certain amount of political capital from his history-making election last fall.
But he also faces a thicket of challenges as he seeks to move ahead on multiple fronts both foreign and domestic amid recession and war.
"We have begun to pick ourselves up and dust ourselves off, and we've begun the work of remaking America," Obama proclaimed Wednesday. But he acknowledged, "We've got a lot of work to do because on our first day in office, we found challenges of unprecedented size and scope."
He defended his ambitious, costly agenda, saying: "These challenges could not be met with half measures. They couldn't be met with the same, old formulas. They couldn't be confronted in isolation. They demanded action that was bold and sustained."
And, Obama countered critics who said he's taking on too much, as he works to turn around the recession while revamping energy, education and health care in the United States.
"The changes that we've made are the changes we promised," Obama said. "We're doing what we said we'd do."
Earlier, Obama began his day at the White House, where he welcomed Sen. Arlen Specter, the veteran Pennsylvania Republican, to the Democratic Party. The president said he was "grateful" for Specter's decision to switch parties. Vice President Joe Biden, who had long encouraged his former Senate colleague to become a Democrat, also attended.
The president then darted to Missouri to hold what aides billed as a question-and-answer event, though Obama spent roughly 20 minutes making opening remarks in which he touted changes his fledgling administration already has made and other issues it wants to tackle in the coming months.
Obama drew a standing ovation from the crowd as he noted his first 100 days, saying: "That's a good thing." He also hailed the day as "the beginning of another long journey," given the challenges facing the country.
Obama reached his 100th day with strong public backing.
A FOX News poll last week showed him with a 62 percent job approval rating, down just three points from the 65 percent approval he received after his first week in office.
Surveys show Americans are a bit less confident about some of Obama's policies, specifically his spending plans.
FOX News' Brian Wilson and the Associated Press contributed to this report.