Oklahoma lawmaker's bill could ban hoodies in public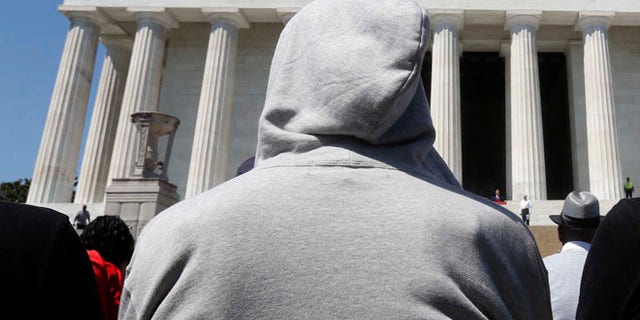 NEWYou can now listen to Fox News articles!
Wearing a hoodie or any other garment that conceals your identity could soon be a crime in Oklahoma, if one lawmaker gets his way.
Oklahoma state Sen. Don Barrington, a Republican, is proposing a law to prevent people from wearing clothing or masks in public to hide their identity. But the so-called "hoodie law" is sparking a backlash from those who say the proposal goes too far.
The bill would broaden existing law that already prohibits concealing one's identity when committing a crime. Barrington says the proposed change is a public-safety issue to protect Americans from crime and harassment.
"Oklahoma businesses want state leaders to be responsive to their safety concerns, and this is one way we can provide protection," Barrington told KFOR-TV in Oklahoma City.
Some school systems across the country recently have moved to ban hoodies for students, over concerns that they could be used to hide food and other issues.
However, critics think the statewide Oklahoma measure infringes upon personal freedoms. The fine for violations would run up to $500.
"This is a violation of an individual's right to choose what they want to wear as long as it doesn't violate the realm of public decency and moral values," attorney James Siderias told the TV station. "I think the legislature is just trying to make Oklahoma a little bit safer, and in doing so, I think they just over-reached a little bit."
The proposal makes exceptions for religious garments and Halloween celebrations and numerous other circumstances.