Ohio Legislature Passes Bill to Limit Collective Bargaining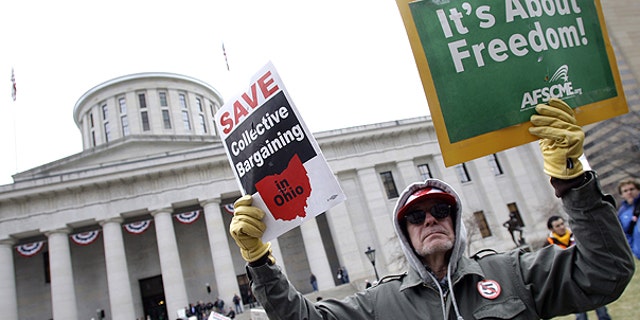 NEWYou can now listen to Fox News articles!
COLUMBUS, Ohio -- The Ohio Legislature voted Wednesday to severely limit the collective bargaining rights of 350,000 public workers, sending a bill that sparked weeks of pro-labor protests to Republican Gov. John Kasich, who is expected to sign it by the end of the week.
The full House had passed the measure on a 53-44 vote Wednesday after it cleared committee, and the Senate followed with a 17-16 vote of approval.
The measure affects safety workers, teachers, nurses and a host of other government personnel. It allows unions to negotiate wages but not health care, sick time or pension benefits. It gets rid of automatic pay increases and replaces them with merit raises or performance pay. Workers would also be banned from striking.
Kasich has said his $55.5 billion, two-year state budget counts on unspecified savings from lifting union protections to fill an $8 billion hole. The first-term governor and his GOP colleagues argue the bill would help city officials and superintendents better control their costs at a time when they too are feeling budget woes.
Pickerington teacher Patricia Kuhn-Morgan said she is confused by connections being drawn between the bill and job creation.
"As teachers, the best way we can have to job creation is to educate the public."
She said she believes Wednesday's vote will hurt the GOP with voters.
"I've spoken to a lot of educators who are typically straight-ticket Republicans that have said to me that they won't ever vote for another Republican because of how this bill's been pushed through and the democratic process has been abused," she said as she awaited the Senate's vote.
Contentious debates over restricting collective bargaining have popped up in statehouses across the country, most notably in Wisconsin, where the governor signed into law this month a bill eliminating most of state workers' collective bargaining rights. That measure exempts police officers and firefighters; Ohio's does not.
The Ohio bill has drawn thousands of demonstrators, prompted a visit from the Rev. Jesse Jackson and packed hearing rooms in the weeks before the Senate passed the measure. Its reception in the House has been quieter, though Wednesday's vote drew several hundred demonstrators to the Statehouse.
But the overall response by protesters in the Rust Belt state, despite its long union tradition among steel and auto workers, paled in comparison to Wisconsin, where protests peaked at more than 70,000 people. Ohio's largest Statehouse demonstrations on the measure drew about 8,500 people.
Democrats oppose the measure but have offered no amendments to it. Instead, they delivered boxes containing more than 65,000 opponent signatures to the House labor committee's chairman.
Many Democrats, along with other opponents, have vowed to lead a ballot-repeal effort if the measure passes.
The vote in the House comes after the committee added GOP-backed revisions Tuesday that would make it more difficult for unions to collect certain fees.
The committee changed the bill to ban automatic deductions from employee paychecks that would go the unions' political arm. They also altered the measure to prevent nonunion employees affected by contracts from paying so-called "fair share" fees to union organizations.
Unions argue that their contracts cover those nonunion workers and that letting them not pay unfairly spreads the costs to dues-paying members.
------
Associated Press writer Julie Carr Smyth contributed to this report.