Officials: Qaddafi May Have Lied About Daughter's Death in '86 Bombing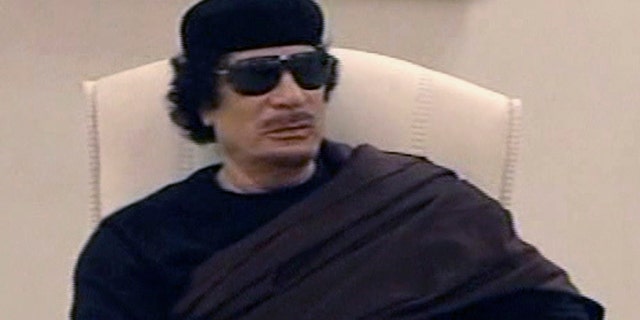 NEWYou can now listen to Fox News articles!
U.S. officials told Fox News on Friday there are "serious questions" about whether Muammar Qaddafi's daughter was killed in a 1986 U.S.-led bombing, though the Libyan dictator for years used that claim to build sympathy.
The questions are being raised as a newspaper report Friday detailed new evidence suggesting the adopted daughter is alive and was working as a doctor in Tripoli.
The Irish Times reported that it discovered several documents in the Qaddafi compound relating to his daughter Hana.
Among them: an exam paper signed "Hana Muammar Gadafy" in Arabic; a British Council certificate from 2007 showing that a Hana Qaddafi finished an English-language course; an envelope with Hana's name on it; and passport photographs of a woman in her mid-20s.
Hana was 6 months old when Qaddafi's compound was bombed in 1986, and would be in her 20s now.
The evidence appears to contradict Qaddafi's longstanding claim. When former President Ronald Reagan ordered the Tripoli bombing in 1986, in retaliation for Libyan agents bombing U.S. troops in a German nightclub, an America reporter was shown the body of a 6-month-old child purported to be Hana.
That story has since been thrown into doubt -- doubts that were reinforced after rebels and the reporters following them gained entry in Qaddafi's compound this week.
The Irish Times reported that some of the documents were found in a room that looked like it may have belonged to a young woman. "It's Hana, it's Hana, the daughter Qaddafi lied about. This was her room," the rebels reportedly said when they entered.
Qaddafi's whereabouts are unknown, as fighting rages on in Libya between the rebels and Qaddafi loyalists. The location of his adopted daughter, if she is alive, is also unknown.
Fox News' Jennifer Griffin and Justin Fishel contributed to this report.