Qaddafi Regime Offered Kucinich All-Expense Paid Trip to Libya to Broker Peace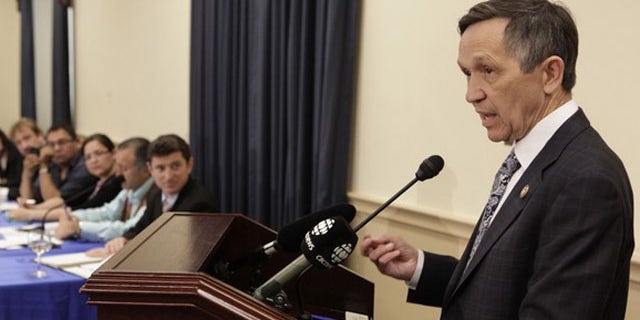 Rep. Dennis Kucinich, who has been one of the most outspoken critics of the Obama administration's military intervention in Libya, confirmed Friday that he was invited to visit the North African nation in an attempt to end months-long conflict between the Qaddafi regime and the rebel forces who have been aided by NATO air strikes.
The Guardian first reported that the Qaddafi regime offered Ohio Democrat an all-expense paid trip Tripoli as part of a hastily arranged "peace mission."
But Kucinich, who was worried about security, declined the offer and visited Syria instead.
In a statement, Kucinich said he was contacted by both sides seeking a peaceful solution to the conflict.
"During my communication with parties to the conflict, I made it clear that I could not negotiate on behalf of the administration, but that I was ready to listen and to communicate to members of Congress ideas for how the conflicts could be resolved peacefully," he said in a statement. "I also notified administration officials of what was communicated to me on several occasions."
Kucinich proposed a peace plan in June that called for an immediate ceasefire and offered a framework to achieve reconciliation and national unity.
Rebel forces stormed the Qaddafi compound Tuesday and control most of the country, bringing Qaddafi's 42-year reign to an end. But Qaddafi himself is still in hiding, sparking fears that he will try to exact revenge later.
"As we reach almost a half a year in Libya, we know that the use of force and ultimatums that neither side will accept will not end the bloodshed or bring about a just political settlement," Kucinich said. "As a strong proponent of the use of diplomacy instead of the use of military force, I believe it is my obligation and my right to participate in speech and debate over these critical matters."
Kucinich has authored multiple resolutions to end the Libya mission or handcuff the administration as it pertains to Libya, and he is now suing the administration for going to "war" without seeking proper congressional approval.
Fox News' Chad Pergram contributed to this report.