Obama's Visit to Spanish Wind Company Irks Some American Businesses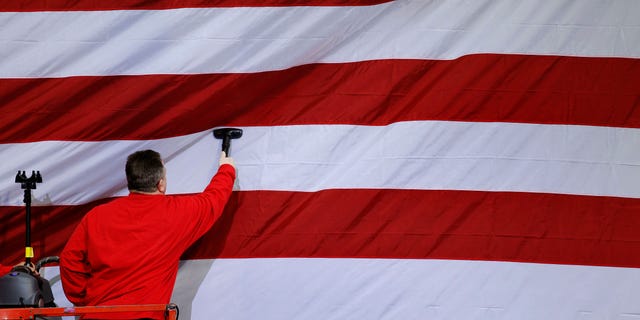 NEWYou can now listen to Fox News articles!
An ill wind is blowing through the energy industry over President Obama's visit Wednesday to the Pennsylvania arm of a foreign-owned wind turbine maker.
The president toured and spoke to workers at a Gamesa Technology Corporation plant in Fairless Hills, where about 300 workers labor in a former U.S. Steel industrial site making wind turbines.
It is a nearly perfect example of the president's goal of forging 20th century manufacturing into the new green industries he envisions. But while the company claims to employ about 900 Americans at plants in the United States, Gamesa is headquartered in Madrid, Spain.
That's a problem for Howard Makler, president of California-based wind turbine maker WePower.
"There are plenty of businesses that he could visit that are owned by Americans," Makler told Fox News Radio.
Makler argued the choice shows a lack of sensitivity to American businesses."We are owned in America, we do our business in America. I think that focusing on businesses that are owned in American certainly would go a long way toward demonstrating the president's sensitivity to the needs of American businesses."
Sanjeev Choudhary, vice president of Global Marketing and Business Development at Vermont-based Northern Power Systems says he's "really excited" to see the president highlighting the wind power industry. But Choudhary has concerns too.
"We would view it as somewhat of a missed opportunity to shine the spotlight on a true domestic manufacturer such as ourselves," he said.
He added, "Would we have loved the opportunity to host the president? Of course."
The White House defended the selection.
"The plant the president is visiting … is owned by the first overseas wind manufacturer to set up full production facilities in the United States -- and as a result created hundreds of American jobs, including 800 in Pennsylvania alone," White House spokesman Clark Stevens told Fox News Radio.
And the White House got some support from the Arizona-based Southwest Windpower.
"If building wind turbines in Pennsylvania is done by American workers rather than importing fully assembled wind turbines from Spain that are simply installed, it's a good thing," said Andy Kruse, co-founder and executive vice president of the company.
"Unfortunately in the 1980's America was the global leader in wind energy but we lost that lead when policies at the time changed," Kruse lamented.
That is something the president is trying to change.
The moral of the story appears to be that when it comes to creating green jobs, you have to be careful which companies you choose to highlight or the green you create may be envy.