Obama's trip to India signals growing relations between two countries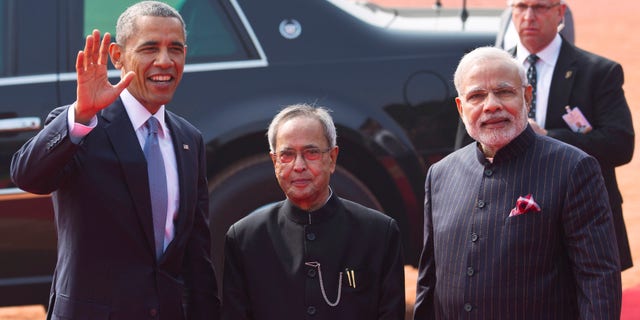 NEWYou can now listen to Fox News articles!
President Obama arrived in India Sunday to showcase a deepening relationship with the country with hopes to lay the ground work for future agreements.
Obama is scheduled to sit with Indian leaders at a military parade Monday, becoming the first U.S. president to attend India's Republic Day celebrations. His appearance at the parade is meant to show solidarity between the two largest democratic nations, as China's presence grows in Asia.
The president's trip comes four months after Indian Prime Minister Narendra Modi met with Obama in Washington. It also coincides with escalating tensions between India and Pakistan, with both countries trading fire at its borders killing dozens of civilians.
The two leaders are expected to discuss how India and Pakistan can resume dialogue and reduce hostilities, officials told the Wall Street Journal.
The acceptance of Modi's invitation to Republic was a strong sign of renewed U.S. hope that Indian will be able to achieve a sustained economic development that is critical to competing against China.
Obama is also expected to discuss the progress made on getting the heavily polluted country to agree to curb carbon emissions. White House officials are hoping that the climate agreement between the U.S. and China will spur India to take similar steps. However, officials are not expecting that to happen.
Obama is also expected to push Modi to make changes to liability legislation in India that has prevented U.S. companies from capitalizing on a landmark civil nuclear agreement between the two countries in 2008.
The Associated Press contributed to this report
Click for more from Wall Street Journal.