Obama's comedy, Hollywood stargazing to be top draw at White House Correspondents' Dinner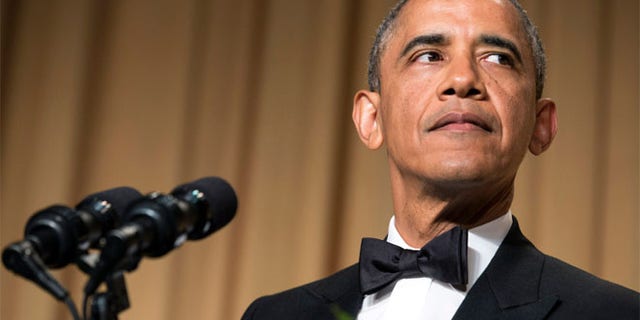 NEWYou can now listen to Fox News articles!
The White House Correspondents' Association dinner is set to begin Saturday evening, with celebrity-watching and President Obama's late-night comedy routine expected to again be the highlights of the annual Washington event.
The roughly 101-year-old, white-tie gathering of White House reporters, high-profile politicians, their high-powered staffers and other Washington insiders has in recent years faced increasing criticism about becoming more of a red-carpet affair and less of a charity event.
However, the opportunity to rub elbows with Washington and Hollywood royalty and to hear them take political jabs remains one of the toughest tickets in the nation's capital.
The dinner -- or so-called "Nerd Prom" -- is expected to have roughly 2,600 guests and will again be held at the Washington Hilton. However, the three or four days of surrounding events, including the Bloomberg/Vanity Fair after-party, are as much of an attraction as the main event.
Among some of the celebrities who reportedly will attend the 2015 events are Donald Trump, actresses Jane Fonda and Kerry Washington and Matchbox Twenty singer Rob Thomas.
If the dinner is like recent ones, expect the president to make some verbal jabs at his political rivals and the reporters who cover him. In recent years, Obama has ribbed such Republicans as Senate Majority Leader Mitch McConnell and House Speaker John Boehner.
Adding to jokes about Boehner's sun-burned, orange-tinted face, Obama who is the country's first black president, last year said: "These days, House Republicans give John Boehner a harder time than they give me, which means orange really is the new black."
Don't expect to find many of the politicians who are hoping to succeed Obama as president -- most, it seems, are staying away from the gathering.
Cecily Strong from "Saturday Night Live" was the professional hired to provide the laughs.
The dinner helps fund scholarships and awards that recognize journalists.
This year's award winners include:
--Josh Lederman of The Associated Press and Jim Avila of ABC News, the Merriman Smith Award for presidential coverage under deadline pressure.
--Peter Baker of The New York Times, the Aldo Beckman Award for repeated excellence in White House coverage.
--The Edgar A. Poe Award, recognizing coverage of news of national or regional significance, to The Washington Post's Carol A. Leonnig and The Wall Street Journal team of Gary Fields, John R. Emshwiller, Rob Barry and Coulter Jones.
Scott Horsley of National Public Radio received a special mention in the Beckman Award category for his coverage of White House policies and politics.
The Associated Press contributed to this report.