Obama's $5 Billion Weatherizing Program Wastes Stimulus Funds, Auditors Find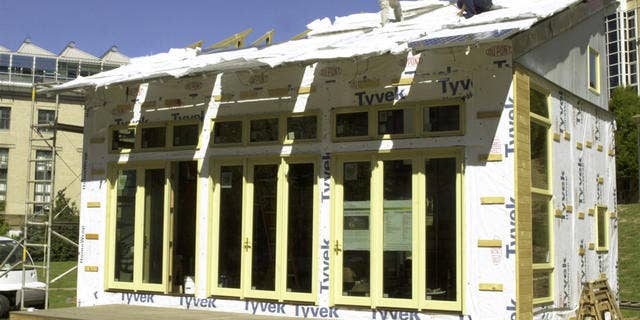 NEWYou can now listen to Fox News articles!
President Obama's $5 billion stimulus injection into a decades-old program to help lower energy bills for millions of low-income families by retrofitting their homes to improve efficiency has been plagued by cases of mismanagement, waste and fraud in several states.
The most dramatic example can be found in Delaware, where "gross mismanagement and potential fraudulent activity" that federal auditors found last year could affect hundreds of homes, a senior administration official told FoxNews.com. The subsequent repairs and inspections reportedly will cost the state a significant chunk of the $7.5 million remaining from $13.7 million of stimulus it received in 2009.
Delaware is the only state where the weatherization program has been suspended, but problems have surfaced in other states, including Florida, Illinois, New Jersey, Pennsylvania, Texas, Tennessee and Virginia.
"It's a complete cesspool of waste," Leslie Paige, vice president of Citizens Against Government Waste, told FoxNews.com. "When it's over, we will never know how much went down the tube. They cannot track the money. By the time they get to it, a lot of the money will be gone."
The Delaware News Journal reported last week that much of the costs for the low-income housing program stemmed from paying contractors to do simple, inexpensive fixes -- like insulating attics or sealing gaps -- but who instead went the path of replacing furnaces, windows and doors, all at a much greater cost. Much of the work was authorized by an administrator and a contractor, neither of whom is still employed with the state program, the newspaper reported.
"The cash grab that went on was just amazing," Allen Luzak, a weatherization expert with the Delaware Energy Office told the newspaper.
So far, only 689 homes have been retrofitted while roughly 6,000 families are on the waiting list for help. The attorney general's office has been investigating the program for the past year but hasn't filed criminal charges yet, spokesman Jason Miller told the newspaper.
The state has until March 2012 to use its federal allocation or it will be returned to the Treasury Department. But Delaware hasn't done any weatherization projects since last year when the problems were first discovered in a federal audit, an Energy Department official acknowledged.
Repairs must be made and state inspectors must go back and check the work before new projects can begin this month or in May, the official told FoxNews.com.
"We suspended all new weatherization work in the state until the problems could be completely addressed and the state is continuing to work with homeowners and local contractors to make sure that all resources are accounted for and that every home weatherized under the program was completed properly," the department official said.
According to the Energy Department's Weatherization Assistance Program, which began under President Jimmy Carter and was reinvigorated by the American Recovery and Reinvestment Act, more 380,000 low-income homes were retrofitted with stimulus funding through the end of December 2010, the latest data available. About $2.4 billion in stimulus funds remains unspent.
The program works like this: Washington sends weatherization money to the states, where it is passed to local nonprofits that hire contractors to spread insulation and install efficient heaters in people's homes.
The $5 billion program was portrayed as the heart of the stimulus package -- a way to jumpstart the economy while encouraging people to conserve energy at home.
An Energy Department spokeswoman defended the overall program, saying it has "created more than 15,000 jobs and helped more than a half million American families cut their energy bills and save money."
She added that incidents like those in the audits are rare.
"We take any reported case of abuse or fraud very seriously, but these have been the exception rather than the rule and we have taken aggressive actions against those responsible," spokeswoman Jen Stutsman said in an email to FoxNews.com.
Later, in a phone interview, Stutsman emphasized that what happened in Delaware is "unique."
"We don't think it is indicative of anywhere else in the country," she said.
But the Energy Department's inspector general has been skeptical of the program's ability to avoid waste, especially after it got off to a slow start due to a variety of factors, including state budget problems.
In a review of the program last year, Energy Inspector General Gregory Friedman said that as the original kinks gets ironed out, "it appears likely that pressure will increase to accelerate the weatherization of residences" before the March 2012 deadline.
"In a situation like this, our concern is that the understandable desire to spend the weatherization funds on a catch-up basis may lead to an environment conducive to wasteful, inefficient and, perhaps even abusive practices."
CAGW's Paige said the failure of the program is "a poster child for this entire stimulus program."
"This was not about really helping the economy because if you wanted to support the economy, you would have done more with tax breaks," she said. "Instead they have to jam this money through their political agenda.
"Anytime you take a lot of money, like $5 billion, and you have to spend it as quickly as possible, that should always be raising alarm bells because there's no prudence going on."
But the Energy Department says it has been able to identify problems early on because of their aggressive oversight and monitoring process.
"We will continue to exercise strong oversight of this program so that taxpayers get the value they deserve and expect," Stutsman added.