Obama Wraps Up Relaxing Vacation Amid GOP Criticisms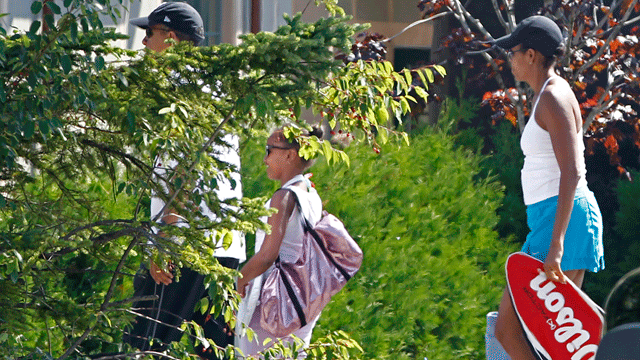 BAR HARBOR, Maine -- President Barack Obama and his family managed to make it through a couple of days of family vacation time without a crisis forcing a change in plans.
The first family was to head home to the White House on Sunday after two days of nearly nonstop recreation at this upscale resort on the northern Maine coast.
From the moment they arrived Friday, it was clear the Obamas were determined to make the most of their time here, much of it in Acadia National Park.
The president, his wife Michelle and daughters Malia and Sasha set the tone right away, motorcading straight from the airport to a park bike trail for an hour of cycling.
What followed was a whirl of outings, as their motorcade crisscrossed Mount Desert Island. They went boating on Frenchman Bay, hiked on a park nature trail, played tennis, hung out at the pool, toured a lighthouse, had lunch and dinner at harborside restaurants and -- of course -- stopped for ice cream.
Even their dog Bo had fun, playfully wrapping up a Coast Guard lighthouse keeper in the leash Sasha, 9, was holding.
But the high point -- literally -- was their visit to the summit of Cadillac Mountain, listed by park officials as the tallest peak on the Eastern Seaboard. From the granite mountaintop, as they listened to a park superintendent, the Obamas beheld a spectacular vista of granite hills above an emerald bay.
It was certainly a more uplifting scene than what awaited the president on his return to Washington: more wrangling with a bitterly divided Congress heading toward the August recess, lawmakers' attention increasingly focused on the fall elections.
The Obama family was also eyeing its August plans. Malia, 12, is headed to summer camp for the first time. Her dad has said he plans to return to the Gulf soon for another look at the oil spill zone. And residents of Martha's Vineyard are wondering if the Obamas will spend part of the month on the island off the Massachusetts' coast, as they did last summer.
The trip to Maine did appear to accomplish one important thing: breaking the Obama family travel jinx.
Since last year's Vineyard stay was interrupted by Sen. Edward Kennedy's death and funeral, Obama family travel plans have been repeatedly altered by events.
Christmas Day in Hawaii had the president responding to a near-bombing of a Detroit-bound jet. A planned trip to Indonesia, where Obama spent part of his youth, has twice been postponed. And other trips have had their schedules scrambled.
Of course, the Obamas' departure for Bar Harbor was itself delayed briefly, when Obama stopped to talk to reporters the morning after BP finally capped its runaway well that for weeks had poured millions of gallons of polluting crude into the waters of the Gulf of Mexico, despoiling rich fishing grounds and chasing away summer vacationers.
Nonetheless, even before the oil well was capped off Thursday, plans were being made for the first family to enjoy another mini-vacation in the coastal Maine town of Bar Harbor. The decision to head north is a choice not been lost on some, especially when the president and first lady have encouraged Americans to travel south to Florida and other tourist-starved areas along the Gulf of Mexico.
Scott Stanzel, former deputy press secretary for President George W. Bush, told Fox News, "at a time he could be setting an example...he has chosen not to do that."
Republicans have also hit the president particularly hard for the number of golf outings he's taken since the beginning of the BP oil spill crisis, especially one round during the first initial days of the spill when the president and first lady escaped for a weekend getaway to Asheville, N.C.
Obama's penchant for golfing -- nearly 10 times in the 12 weeks since the April 20th explosion that killed eleven men - has led Republicans to chronicle each time he picks up his clubs. Senate Minority Leader Mitch McConnell accused the president of being out of touch.
The Kentucky Republican told a group of young Republicans during a leadership conference, "scheduling more tee times than Phil Mickelson during the greatest environmental disaster in our nation's history is out of touch."
Bush was also hit hard by another environmental disaster - Hurricane Katrina - even forcing Bush to cut short a summer vacation at his Crawford, Texas ranch to travel back to Washington and deal with the crisis. And the image of Bush looking out over the flooded coast, far above from Air Force One, did nothing for his presidential image as critics complained Bush was too far away to offer help or feel the victims' pain.
Bush was often criticized for the length of time downtime he spent at his ranch, but as Stanzel points out, presidents aren't really afforded vacation time.
"We had an infrastructure in Crawford where the president continued to perform the duties much the way he might when he was at the White House," Stanzel told Fox News.
In the early 1990's, Democrats criticized then-President George H.W. Bush, for the image of the 41st president in a golf cart, charging he was out of touch with the recession at the time, and couldn't relate to Americans pain.
But presidential historian Doug Wead says every president is on the clock, even during a vacation, and that time is not really personal. "There's nothing really private. So where a president takes his vacation and what scenes are shown to the public, all of that is thoroughly thought through," Wead said in an interview.
While a vacation may help Obama relax, it probably won't help his poll numbers. A Fox News poll released Thursday finds that 43 percent of voters approve of the job Obama's doing, matching a previous low in early April. That number has dropped from just two weeks ago when those questioned gave Obama a 47 percent approval rating.
Fox News' Wendell Goler and The Associated Press contributed to this report.