Obama Visits Lincoln Memorial After Shutdown Averted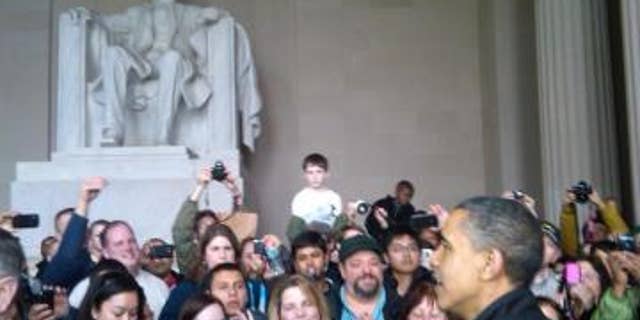 NEWYou can now listen to Fox News articles!
President Obama made a quick trip to the Lincoln Memorial Saturday to highlight that national parks, monuments and museums are indeed open for business.
The budget deal Congress struck late Friday night prevented a federal government shutdown that would have necessitated the closing of tourist sites across the country. Those visiting the nation's capital, would have been out of luck too, as the Smithsonian's 19 museums and galleries, the National Zoo, parks and landmark monuments, like the Lincoln Memorial, would have been closed.
But that didn't happen, and Mr. Obama, who was greeted Saturday afternoon by hundreds to cheering tourists, was happy to welcome them to the District of Columbia.
"Because Congress was able to settle its differences, that's why this place is open today, and everybody's able to enjoy their visit," the president said under the marbled gaze of President Abraham Lincoln. "And that's the kind of future cooperation I hope we have going forward," he added, "because this is what's America is all about - everybody from difference places enjoying those things that bind us together."
The unannounced visit came just after Obama signed the six day bridge continuing resolution, which funds the federal government through Thursday evening, thus giving Congress time to finalize the new budget agreement reached Friday night.
The president bounded up the few dozen steps of the memorial to shake hands and pose for photos with some of the lucky few of the hundreds gathered there. "It's wonderful to spend time with you guys, I hope you had a great time," said Obama.
The president last visited the Lincoln Memorial, known to be one of his favorites, when he was president-elect, two days before his inauguration.