Obama under pressure to detail Iraq strategy, will meet with Hill leaders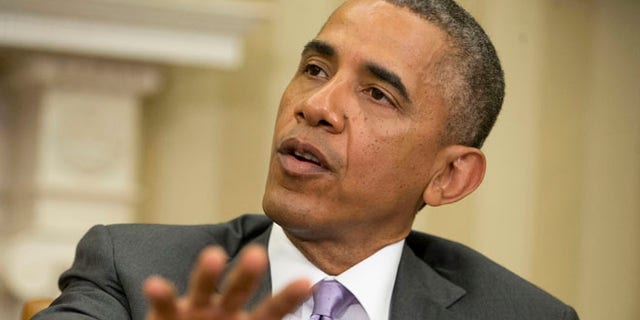 President Obama is facing growing pressure from Congress to detail his strategy for addressing the spiraling violence in Iraq, after he pledged on the South Lawn last Friday that he'd review ways to assist the fragile and threatened Iraqi government.
The president plans to meet on Wednesday with top Capitol Hill leaders to discuss the crisis. A White House official said the meeting would be "part of his ongoing consultations with congressional leadership on foreign policy issues, including the situation in Iraq."
A spokesman for Senate Republican Leader Mitch McConnell said the senator specifically has asked the president "to provide us with a strategy and a plan and it's his hope that those will be provided at the meeting."
Mike Steel, spokesman for House Speaker John Boehner, said the speaker expects to hear "a coherent strategy to ensure that Iraq does not descend further into lawless barbarism."
Sources confirmed that Obama plans to meet with Boehner, House Minority Leader Nancy Pelosi, Senate Majority Leader Harry Reid and McConnell.
Since at least Friday, the administration has been weighing various options for how to blunt advancing Sunni militants with the Islamic State of Iraq and Syria -- those options are said to include air strikes, U.S. special forces and other contingencies. Amid the deliberations, the U.S. has dispatched ships to the Persian Gulf, to be on standby in the event of an evacuation, and has sent almost 300 American forces in and around Iraq to help secure U.S. assets.
But critics say it's not enough.
Former U.S. ambassador to Iraq Ryan Crocker told CBS News that Secretary of State John Kerry -- who was helping host a conference in Washington this week on protecting the oceans -- should be "on a plane right now for Baghdad."
"We need to work with the Iraqis at the highest level -- that would be Secretary Kerry backed by the president -- so that they can demonstrate the national unity -- Kurdish, Sunni and Shiite -- that is going to be essential if there's going to be any hope of turning back the ISIS threat," he told CBS.
Rep. Michael McCaul, R-Texas, chairman of the House Homeland Security Committee, also criticized Obama for heading to Palm Springs, Calif., over the weekend to play golf while the Iraq crisis escalated. He told Fox News that Obama should call in Crocker and other officials who worked on the Iraqi war for their advice.
"The administration must act quickly to provide assistance to the [Nouri al] Maliki government before every gain made by U.S. and allied troops is lost, and before [ISIS] expands its sanctuary-from which it can eventually threaten the United States," McConnell said Tuesday.
Lawmakers, though, are deeply divided over the prospect of America getting involved anew in the fighting in Iraq, a little more than two years after the formal end of the war.
"Where will it lead and will that be the beginning or the end?" Sen. Richard Shelby, R-Ala., said, when asked about air strikes. "We don't know that. This underlying conflict has been going on 1,500 years between the Shias and the Sunnis and their allies. And I think whatever we do, it's not going to go away."
Shelby was one of the 77 Senate Republicans and Democrats who voted to give President George W. Bush the authority to wage war. Casting the strong bipartisan vote on Oct. 11, 2002 were Democratic Sens. Joe Biden of Delaware, Hillary Clinton of New York and Harry Reid of Nevada.
Senators from both parties appeared almost unanimous in their view that al-Maliki should leave power, even as many called for assistance to his government in battling militants.
ISIS has conquered several cities in Syria and Iraq.
"I support almost anything that would curtail" ISIS, said Sen. Orrin Hatch, R-Utah. "That's a very dangerous situation."
Sen. John McCain, R-Ariz., who spoke by telephone over the weekend with White House Chief of Staff Denis McDonough, said not many forces would be needed for an effective operation in Iraq and they'd only be for close air support. He said no combat troops are needed, but some personnel should be on the ground to identify targets for air strikes.
"That would be a handful of probably special forces, forward air controller people," he said, expressing frustration that the administration hasn't done more.
Among the newer senators, Mark Kirk, R-Ill., expressed support for air strikes, but Tim Scott, R-S.C., had his doubts.
"The president's comments about he doesn't know who to strike doesn't give me `a warm and fuzzy,"' Scott said. "The option should remain on the table, but clarity should come first so that I can have an understanding and appreciation. If they don't have an understanding and appreciation, I certainly don't have one."
The Associated Press contributed to this report.