Obama to sign executive order raising minimum wage for federal contractors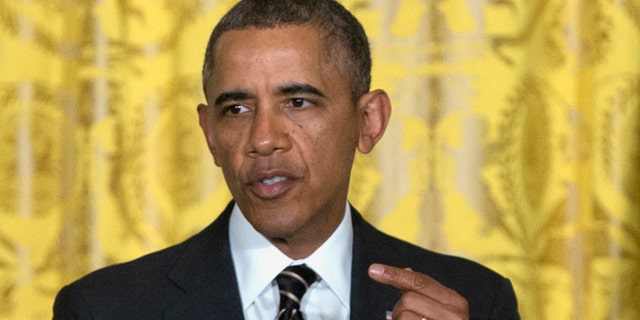 President Obama, in the first of potentially many executive actions tied to his State of the Union address, will unilaterally increase the minimum wage for workers under new federal contracts to $10.10 an hour, from $7.25, in an effort to build momentum for a minimum wage hike for all Americans.
The executive order, which had been pushed by progressive Democratic lawmakers, applies to all contractors performing services for the federal government and would affect more than 2 million employees, according to an administration official.
The president will then use Tuesday night's address to press Congress to pass a Democratic plan to increase the overall federal wage to $10.10 over three years, then indexing it to inflation, while also raising the minimum wage for tipped workers, the official said.
Critics of the minimum wage push claim that raising the rate could have an adverse effect, discouraging businesses from hiring more workers at a time when the government is trying to spur job growth.
"The minimum wage is mostly an entry level wage for young people," Senate GOP Leader Mitch McConnell told "Fox News Sunday." "We have a crisis in employment among young people right now, and generation 18 to 30, people that got out of college, are finding there are no jobs for them. The last thing we want to do is have even fewer jobs for younger people."
But the president is reviving the issue as he tries to focus again on the economy. Obama, who does not have the power to unilaterally raise the minimum wage for private sector workers, also used last year's State of the Union speech to call for a federal minimum wage hike.
"Let's declare that in the wealthiest nation on Earth, no one who works full-time should have to live in poverty and raise the federal minimum wage to $9 an hour," the president said to applause in his 2013 address.
The new executive order affects only future contracts, not existing ones, and would only apply to contract renewals if other terms of the agreement changed. As a result, the order would benefit far fewer workers than the number foreseen by advocates of federal contract employees.
House Speaker John Boehner downplayed the impact the latest executive order would have. "Let's understand something: this affects not one current contract, it only affects future contracts with the federal government. And so I think the question is, how many people, Mr. President will this executive action actually help? I suspect the answer is somewhere close to zero," he said Tuesday.
In December, Reps. Keith Ellison, D-Minn., and Raul Grijalva, D-Ariz., co-chairmen of the Congressional Progressive Caucus, wrote the president urging him to take the "bold step" of signing an executive order to increase wages for federal contractors, GovExec.com reported.
At the time, White House Press Secretary Jay Carney issued a lukewarm response when asked about the lawmakers' request, according to the report.
"This has always been done legislatively. And it has been done with support from Republicans and not just Democrats in the past," Carney said.
Obama, in an effort to avoid the appearance of being a lame duck president, is expected to use Tuesday's State of the Union address to make clear his intentions to use his executive powers to achieve his goals when Congress fails to pass legislation.
Minimum wage is a perennial issue that has taken on a higher profile amid the slowly recovering economy and growing public debate about income inequality. A Quinnipiac University poll this month found 71 percent of Americans in favor of raising the minimum wage — including more than half of Republicans polled.
Five states passed minimum wage measures last year, and advocates hope that number will grow as states from New Hampshire to Washington consider proposals. Many would push families above the federal poverty line, which is $15,730 for a family of two. In Iowa, a bill would hike the minimum wage from $7.25 an hour to $10.10.
Democrats across the political spectrum have lobbied for a higher minimum wage this year, after Obama got the ball rolling on the issue by calling for an increase in his February budget speech. Since then, union-organized demonstrations in front of profitable mega-chains such as Wal-Mart and McDonald's have kept it in the public eye.
Fox News' Ed Henry and The Associated Press contributed to this report.