Obama: Terror Networks Are Biggest Threat to U.S.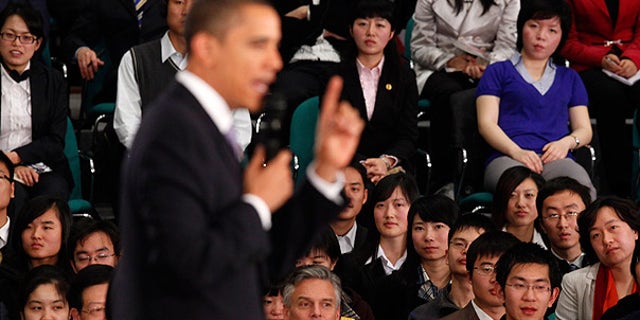 NEWYou can now listen to Fox News articles!
President Barack Obama told Chinese students on Monday that the greatest threat to the United States' security is terrorist networks such as Al Qaeda.
On his first presidential trip to Asia, Obama is nearing a decision on whether to send up to 40,000 more troops at the request of Gen. Stanley McChrystal to fight the war in Afghanistan.
Obama, taking questions from students in Shanghai, said Al Qaeda has crossed from Afghanistan into Pakistan and is in contact with other organizations. He said the U.S. must stabilize that part of the world and reduce the power of extremist networks.
"I continue to believe that the greatest threat to the United States' security are the terrorist networks like Al Qaeda," Obama told students. "They have now moved over the border of Afghanistan and are in Pakistan, but they continue to have networks with other extremist organizations in that region and I do believe it is important for us to stabilize Afghanistan."
Obama said the groups are small in number but are dangerous because they have no conscience. Terrorist organizations armed with nuclear or biological weapons could kill hundreds of thousands of people with just a few individuals, he warned.
The president, who has faced criticism for "dithering" on the war strategy, said the U.S. is trying to give Afghan civilians greater hope and limit the influence of leaders like Usama bin Laden.
Meanwhile, one of Obama's top aides delivered a letter to Pakistani President Asif Ali Zardari urging him to work with the U.S. against extremists, the New York Times reported on Monday.
In the letter, Obama offered Zardari a range of new incentives to the Pakistanis for their cooperation, including enhanced intelligence sharing and military cooperation, according to the Times, which said the proposal was delivered in person by National Security Adviser General James Jones.
Jones's press secretary, Mike Hammer, confirmed that Jones had travelled to Pakistan just before joining Obama over the weekend in Singapore for a summit of Asia Pacific leaders.
In addition to Zardari, Jones met with Pakistani Prime Minister Yusuf Raza Gilani, Army chief General Ashfaq Kayani and other officials.
But Hammer would not discuss what was said in the meetings nor whether a letter was delivered.
On Sunday, Secretary of State Hillary Clinton called on Afghan President Hamid Karzai to do a better job of stopping corruption within his government.
"We're going to be doing what we can to create an atmosphere in which the blood and treasure that the United States has committed to Afghanistan can be justified and can produce the kind of results that we're looking for," Clinton told ABC News.
"Now, we believe that President Karzai and his government can do better. We've delivered that message," she added.
She said the U.S. government will not provide civilian aid without assurances that there are ministries they can hold accountable, and that the Obama administration wants a tribunal to prosecute major corruption crimes and a new anti-corruption commission.
Senate Minority Leader Mitch McConnell said Obama will have "overwhelming support" from GOP senators if he grants the troop requests, but said the caucus is "frustrated" with the inaction.
"We are a little bit perplexed about the length of time it's taking to make this decision," he told "Fox News Sunday." "Part of being president is you don't have easy choices. You have a lot of choices you have to make among difficult options. None of them are perfect. ... I think the president, as difficult as this decision is, needs to make it, needs to follow the advice of his generals."
Former New York City Mayor Rudy Giuliani went further, telling "Fox News Sunday" that the delay "is political strategy, not war strategy."
The Associated Press and Reuters contributed to this report.