Obama slams populist 'right-wing billionaires,' touts liberal push for 'universal income'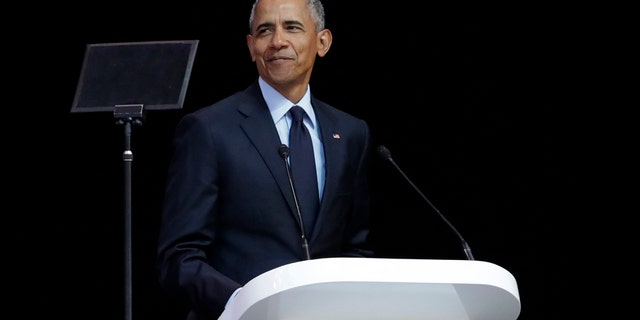 Former President Barack Obama, in a rare post-presidency speech abroad, took several thinly veiled shots at his successor and other populist "right-wing billionaires" -- while openly touting a controversial liberal push for "universal income."
In one of his biggest speeches since leaving the White House, Obama delivered the 2018 Nelson Mandela Annual Lecture in Johannesburg, South Africa on Tuesday. He used the platform to rail against populist movements, which have gained strength in the U.S. and Europe.
"Given the strange and uncertain times we are in—and they are strange, and they are uncertain—with each day's news cycles bringing more head spinning and disturbing headlines, I thought maybe it would be useful to step back for a moment and try to get some perspective," Obama began.
Obama went on to slam the "right-wing billionaires" leading populist movements, in a clear reference to President Trump and like-minded politicians in Europe.
"Populist movements, cynically funded by right-wing billionaires worried about their own interests," Obama said. "These movements tapped the unease that was felt by so many people who live outside of urban course. That their social status and privileges were eroding … threatened by outsiders, those who don't look like them or sound like them."
Obama added that the "politics of fear and resentment and retrenchment" have begun to "appear."
"I'm not being alarmist. I'm simply stating the facts. Look around—strongman politics are ascendant, suddenly, whereby elections and some pretense of democracy are maintained, the form of it, where those in power seek to undermine every institution or norm that gives democracy meaning," he said.
Obama also blasted what he described as "barely hidden racial nationalism."
The speech comes a day after Trump held a controversial summit and press conference with Russia's Vladimir Putin, where the U.S. president did not openly challenge Putin's denial of U.S. election meddling. Several Obama allies and former officials slammed Trump, though Obama himself did not directly address it.
Trump on Tuesday defended his handling of the summit, saying "the Fake News is going Crazy!" Further, he has accused Obama of failing to curb the election interference, tweeting that Obama thought Hillary Clinton would win so "did NOTHING about it."
Obama, meanwhile, on Tuesday seemed to embrace some talking points of the resurgent progressive left -- including opening the door to proposals for a guaranteed income. One such proposal is being considered in Chicago.
"It's not just money a job provides," Obama said. "It provides dignity and structure and a sense of place and a sense of purpose. So we're going to have to consider new ways of thinking about these problems, like a universal income, review of our work week, how we retrain our young people, how we make everybody an entrepreneur at some level. But we're going have to worry about economics if we want to get democracy back on track."
Obama also called on the wealthy, like him, to do their part.
"I am surprised at how much money I've got. I don't have half as much as these others, but there's only so much you can eat, only so many nice trips you can take," Obama said, met by applause. "I mean, it's enough. You don't have to take a vow of poverty to say let me help others out. I'll pay a little more in taxes. It's okay, I can afford it."
The former president also warned that the "free press" was under attack, and that social media is now used for "propaganda" and "conspiracy theories."
Obama touched on the heated immigration debate, and acknowledged that "natural borders matter."
"Laws need to be followed. Newcomers should adapt to customs of their new home. But that can't be an excuse for immigration policies based on race or religion," Obama said. "We can enforce law while respecting humanity of those seeking a better life."
Using Mandela's nickname, he went on: "So on Madiba's 100th birthday, we now stand at a crossroads. ... We have a better story to tell. To say our vision for the future is better is not to say that it will inevitably win. Because history also shows the power of fear. History shows the lasting hold of greed and the desire to dominate others in the minds of men. Especially men."
Obama concluded: "Keep believing. Keep marching. Keep building. Keep raising your voice. Every generation has the opportunity to remake the world."