Obama shops small business for books, patron asks about Guantanamo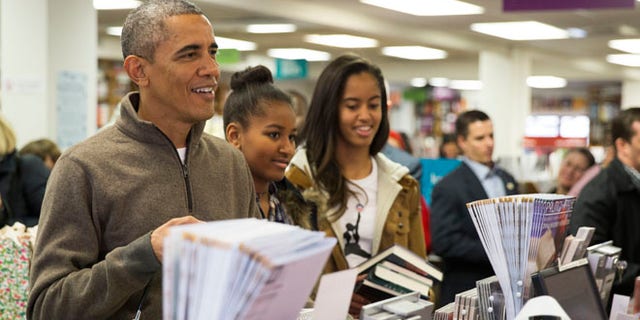 President Obama tried to garner support Saturday for independently-owned businesses with a family shopping trip to a local, favorite bookshop, but most anything in Washington comes with a political concern.
For the second straight year, Obama and daughters Malia and Sasha visited Politics and Prose, where the president left with an armful of books.
"Hope you can close Guantanamo," said one patron, referring to the president's efforts to close the U.S. detention center in Cuba, which was opened in the aftermath of the 9/11 terror attacks.
"We're working on it," Obama replied, then jokingly added to the nearby crowd of shoppers: "Any other issues?"
The president bought 17 books at the popular bookstore, known for its selection and authors' readings. The shop is owned by a former Washington Post reporter and his wife, also a former Post reporter who later worked for Hillary Rodham Clinton at the White House and State Department.
Saturday after Thanksgiving is increasingly being marketed as "Small Business Saturday."
It's designed to drive foot traffic to independent, mom-and-pop-type stores in between the frenzy of Black Friday sales at mass retailers and the Cyber Monday deals available online.
Obama also held one shopper's baby.
And he said jokingly "hope it works" upon handing his credit card to the cashier.
That remark appears to be a reference to an incident in which a restaurant declined his credit card while he dined out in New York City in late September.
Obama bought a mix of titles apparently chosen to satisfy readers young and old. The White House declined to reveal how much he paid.
Among the books in the president's shopping bags for mature readers were "Age of Ambition: Chasing Fortune, Truth and Faith in the New China" by New Yorker writer Evan Osnos, "Being Mortal: Medicine and What Matters in the End" by surgeon Atul Gawande and "All the Light We Cannot See" by Anthony Doerr.
For younger readers, Obama's purchases included three titles in the "Redwall" series by Brian Jacques, two titles in the Junie B. Jones series by Barbara Park and "A Barnyard Collection: Click, Clack, Moo and More" by Doreen Cronin.
The store also had a display for a new book on the president, "The Stranger: Barack Obama in the White House," by Chuck Todd, the moderator for NBC's "Meet the Press" and the network's chief political correspondent.
Malia remarked that her father looked sad in the picture on the book's cover.
Fox News' Joy Lin and The Associated Press contributed to this report.