Obama says US can't seal itself off from the world in fight against Ebola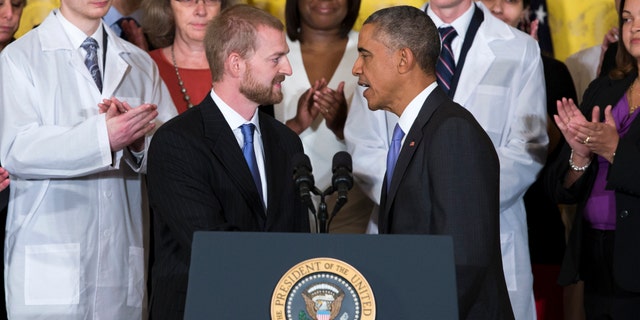 WASHINGTON – Pushing to confront Ebola at its West African source, President Barack Obama said Wednesday the United States was not immune to the disease but cautioned against discouraging American health care workers with restrictive measures that confine them upon their return from the afflicted region. "We can't hermetically seal ourselves off," he declared.
Obama said doctors and nurses from the United States who have volunteered to fight Ebola in West Africa are American heroes who must be treated with dignity and respect.
His remarks came amid debate between the federal government and several states over how returning health care workers should be monitored. The White House has pushed back against overly restrictive measures, including proposals for travel bans or isolation measures adopted by some states.
"Yes, we are likely to see a possible case elsewhere outside of these countries, and that's true whether or not we adopt a travel ban, whether or not you adopt a quarantine," Obama said from the White House, surrounded by health care workers who have volunteered or will volunteer to serve in Liberia, Sierra Leone or Guinea, where the disease has killed nearly 5,000.
"We have to keep in mind that if we're discouraging our health care workers, who are prepared to make these sacrifices, from traveling to these places in need, then we're not doing our job in terms of looking after our own public health and safety," he added.
Obama did not mention any specific case, but a nurse who treated Ebola patients in West Africa and has shown no signs of the disease was isolated in a hospital tent in New Jersey and now is abiding by a voluntary quarantine in her home state of Maine. The nurse, Kaci Hickox, said Wednesday that she planned to defy those guidelines if the state's policy didn't change by Thursday.
The White House has argued that stricter measures adopted by states such as New Jersey and New York could hurt efforts to recruit doctors and nurses to volunteer their services in West Africa. The federal government's guidance says only health care workers who have been exposed to Ebola directly, such as through a needle pin prick or by not having adequate protection, should face isolation.
Still, the Pentagon announced guidelines Wednesday that said U.S. troops returning from Ebola response missions in West Africa will be kept in supervised isolation for 21 days. Obama has said the military's situation is different from that of civilians, in part because troops are not in West Africa by choice.
White House spokesman Josh Earnest rejected suggestions that the policies employed by the Pentagon and states that are stricter than guidelines from the Centers for Disease Control and Prevention conveys a mixed message to the American public.
"The fact of the matter is, those differences in application of the policy have not interfered with the ability of the federal government to coordinate with them as these policies are implemented," he said.
The president was introduced by Dr. Kent Brantly, who was infected with Ebola while working in Liberia and was successfully treated in the United States.
Ahead of his appearance, Obama met in the secure Situation Room with his public health and national security team on the government's Ebola response.
Obama's Ebola response coordinator, Ron Klain, was planning his first visit to the CDC in Atlanta on Thursday. The White House said Klain would meet with Director Dr. Tom Frieden and other senior CDC officials.