Obama says jobs report is 'welcome' news, as Romney blasts job growth as 'weak'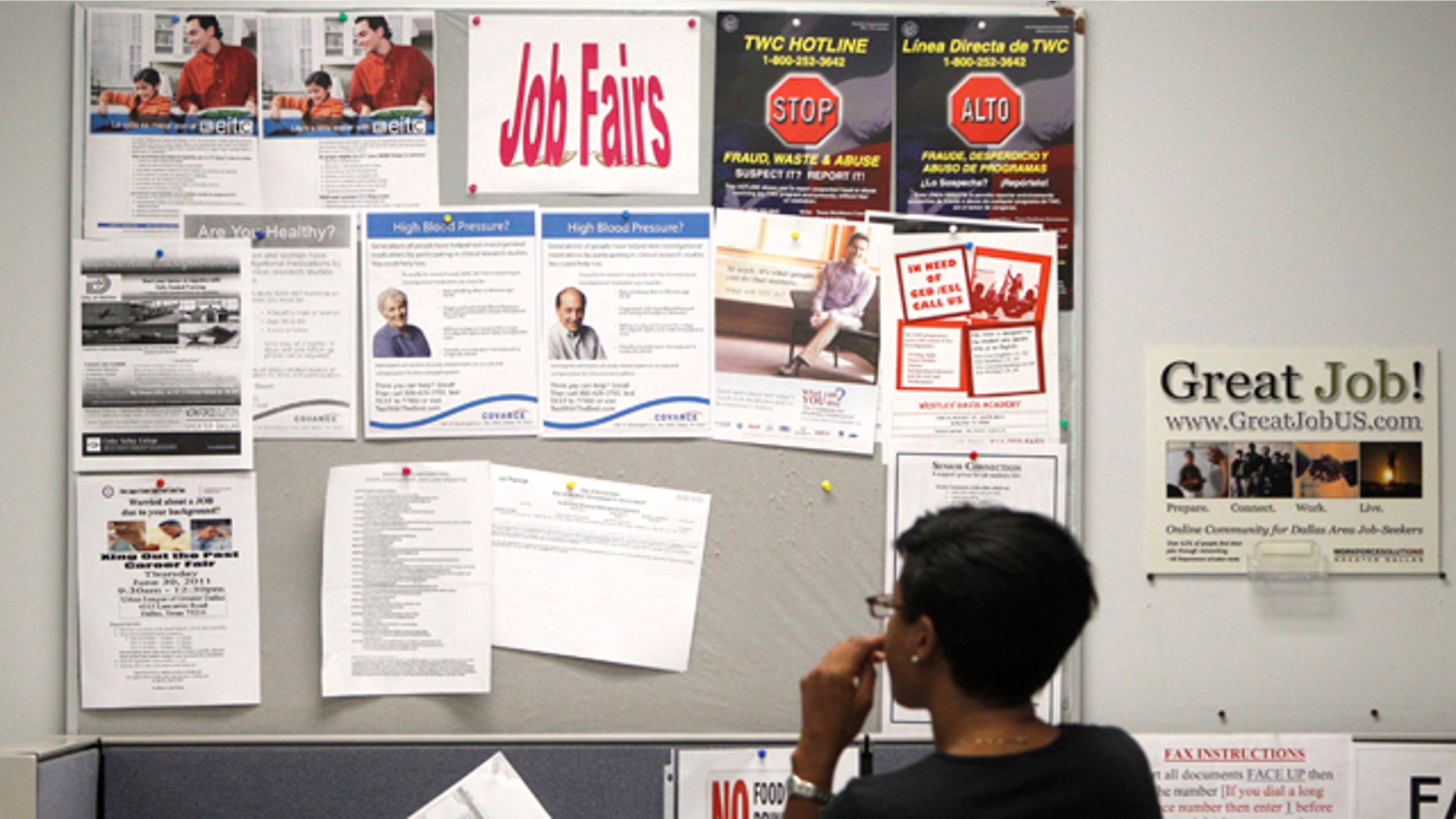 The U.S. economy grew in March but at a slower rate than in the previous three months, with employers making fewer hires, a sign that recovery remains uneven and sluggish.
The Labor Department reported Friday the economy added 120,000 jobs last month, compared to more than 200,000 in each of the previous three months.
The unemployment rate dropped to 8.2 percent, the lowest since January 2009, but the decrease was attributed to fewer people searching for jobs.
The mixed report followed a string of solid job growth. The slowdown in job creation could threaten a recent rise in consumer confidence and dent investors' enthusiasm for stocks.
It also could prove a setback for President Obama's re-election hopes.
Still the president praised the report while speaking at a White House conference on women and the economy, even as GOP presidential candidate Mitt Romney and other Republican leaders responded negatively.
"We welcome today's news," the president said. "But there will still be ups and downs along the way."
Romney, the front-runner in the GOP race, called the jobs data "weak and very troubling."
"More and more people are growing so discouraged that they are dropping out of the labor force altogether. … The president's excuses have run out."
House Speaker John Boehner, R-Ohio, said the report shows small businesses and families are still struggling "because of President Obama's failed economic policies."
Stock markets are closed and bond markets will close early for Good Friday, so most investors won't get to render a verdict on the report until Monday.
Federal Reserve Chairman Ben Bernanke has cautioned that the current hiring pace is unlikely to continue without more consumer spending.
Retailers shed nearly 34,000 jobs in March, and temporary help firms dropped almost 8,000 -- a potentially bad sign for the job market because companies often hire temp workers before adding full timers.
Manufacturers continued to add jobs, hiring 37,000 workers in March.
A broader measure of the labor market -- one that adds to the officially unemployed those who have given up looking for work and those forced to settle for part-time jobs -- improved last month to 14.5 percent from 14.9 percent in February.
The Bureau of Labor Statistics said the economy added 4,000 more jobs in January and February than it previously reported.
This year's election is expected to hinge on the state of the economy; Obama's re-election hopes may depend on continued improvement in the unemployment rate and job creation.
Former Massachusetts Gov. Mitt Romney, the likely Republican challenger, this week blamed the president's policies for slow growth and high unemployment.
The Obama campaign has said that Romney would reinstate policies that led to the recession -- lower taxes for the wealthy and less regulation for business.
For many, what matters most is the unemployment rate. It was 7.8 percent when Obama entered office in January 2009 and peaked at 10 percent nine months later. Since August, it has dropped from 9.1 percent to March's 8.2 percent.
No incumbent since World War II has faced voters with unemployment higher than 7.8 percent.
Other data suggest the economic recovery is gaining strength. The number of Americans seeking unemployment benefits fell last week to a four-year low, the government said Thursday. Consumers are more confident and spending more.
The service sector expanded at a healthy clip in March and increased hiring, according to a private survey released Wednesday by the Institute for Supply Management. Factories are busier. Companies are investing more, ordering more machinery and other equipment.
Economists have worried all along that job growth couldn't sustain the strong December-to-February pace.
They also worry that a 66-cent run-up in gasoline prices (to a national average $3.94 a gallon) so far this year will discourage consumer spending -- though American households are more resilient financially after cutting their debts.
Most economists expect annual growth this year of just 2.5 percent. Normally, it takes annual growth of 4 percent to lower the unemployment rate 1 percentage point over a year.
The job market is improving largely because the pace of layoffs has fallen sharply. The staffing firm Challenger, Gray Christmas reported Thursday that planned layoffs fell 27 percent from February to March. Hiring, meanwhile, is still running nearly 20 percent below pre-recession levels.
The Associated Press contributed to this report.