Obama praises deal with Russia on Syria, but cautions that work remains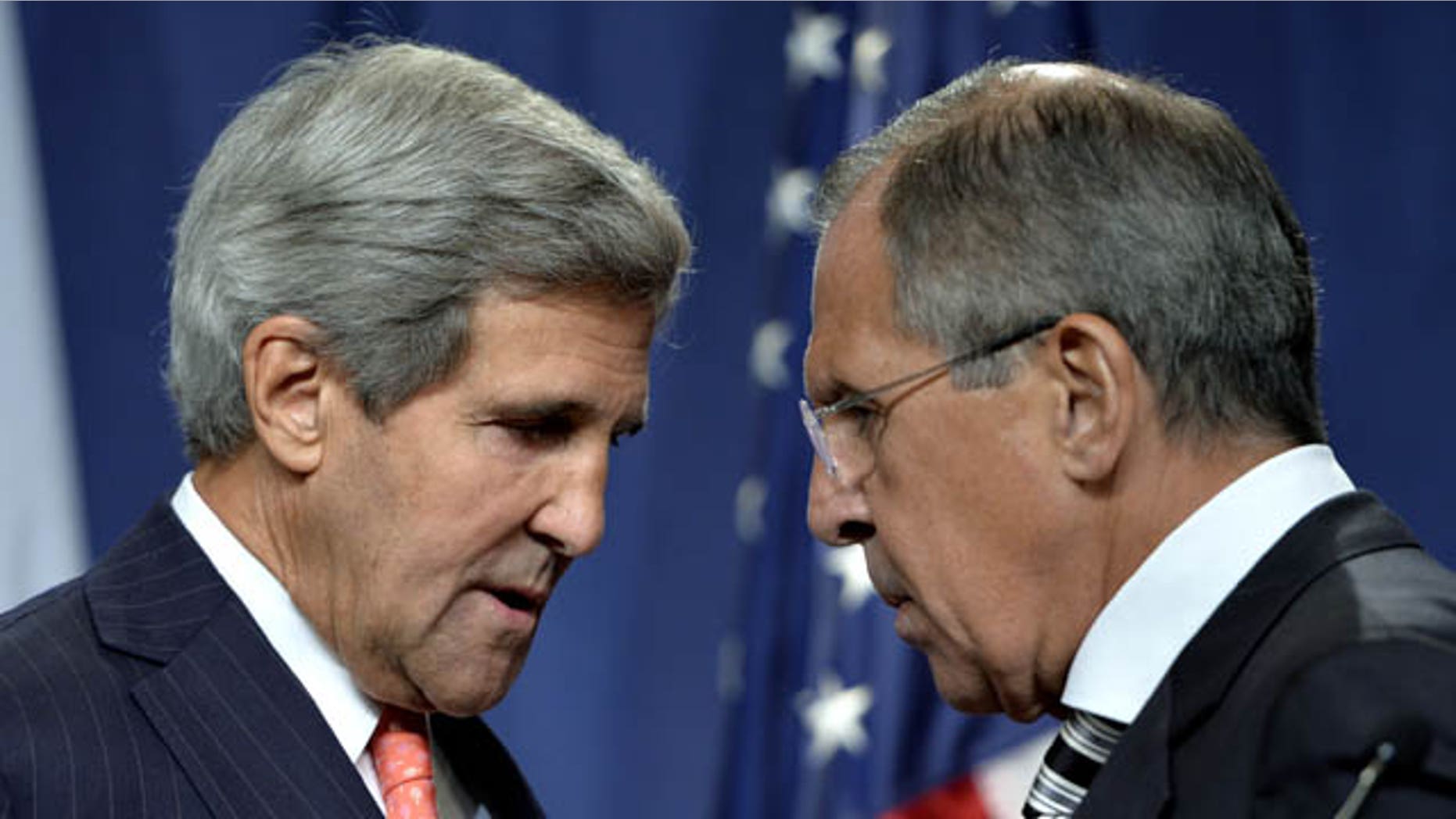 President Barack Obama praised an agreement reached Saturday between the U.S. and Russia, saying it offers a chance to destroy Syria's huge stockpile of chemical weapons and promises to end the threat the weapons pose to the region and the world as well as the Syrian people.
Obama said in a statement Saturday that the international community expects Syria to "live up to its public commitments" to hand over its chemical weapons stockpile. Warning that the U.S. "remains prepared to act" if Syria falls short, he also cautions that more work remains even after the progress the deal represents.
"The use of chemical weapons anywhere in the world is an affront to human dignity and a threat to the security of people everywhere," Obama's statement said. "We have a duty to preserve a world free from the fear of chemical weapons for our children. Today marks an important step towards achieving this goal."
Meanwhile, Secretary of State John Kerry was scheduled to travel to Jerusalem to meet with Israeli Prime Minister Benjamin Netanyahu Sunday. Kerry was expected to brief Netanyahu on the agreement reached in Geneva with Russian Foreign Minister Sergey Lavrov before flying to Paris for discussions with French Foreign Minister Laurent Fabius and British Foreign Secretary William Hague.
Netanyahu expressed cautious hope Sunday that the U.S.-Russia agreement would prove effective, saying that Israel hoped the plan would lead to the "complete destruction" of Syria's chemical weapons arsenal and would push the world to stop Iran from nuclear weapons armament.
Israeli President Shimon Peres says the possibility of U.S. military action if the plan fails should "teach a lesson" to Iran.
Still, Intelligence Minister Yuval Steinitz told Army Radio that the agreement's deadline was not speedy enough, and Syrian President Bashar Assad could try to hide weapons.
Avigdor Lieberman, chair of parliament's foreign affairs and defense committee, told Army Radio that Israel would compare its knowledge of Syria's weapons to the inventory Syria submits.
China, the Syrian government's other major ally apart from Russia, welcomed the agreement Sunday, saying it was a peaceful solution to the stockpile issue that could ease the tense situation in the war-torn country.
"We believe the framework agreement will ease the current tense situation that may be triggered at any moment in Syria and creates new prospects for resolving the chemical weapon issue in Syria through peaceful means," said Foreign Minister Wang Yi, who was speaking at the beginning of a meeting with Fabius in Beijing.
Fabius said later that questions over the deal remained, including what measures should be taken if the Syrian government fails to adhere to it.
France firmly backs the Syrian rebels and has strategic and historic interests in the region. It urged military action after a chemical attack that Paris and Washington blame on Assad's government.
In contrast, China and Russia have consistently blocked resolutions at the U.N. Security Council aimed at sanctioning Assad's regime.
After Sunday's meeting, the French foreign minister said the deal on destroying Syria's chemical weapons was "a significant step forward, but it's a first stage."
"On one hand, we are going to move forward with the destruction of chemical weapons -- bravo -- but on the other hand, hundreds of deaths every day are mounting in Syria and that's also what we must tackle, that is to say find a political solution to the Syrian crisis," Fabius said.
He said he would discuss the agreement and its implementation at a meeting Monday in Paris with U.S. Secretary of State John Kerry and British Foreign Secretary William Hague. On Tuesday, he will meet with his Russian counterpart, Sergey Lavrov, in Moscow.
Fabius also said a report by U.N. inspectors on last month's chemical weapons attack on the outskirts of Damascus would be published Monday.
In setting out one of the most ambitious arms-control efforts in history, U.S. and Russian officials reached an agreement calling for an inventory of Syria's chemical weapons program and seizing all its components. The agreement includes imposing penalties if Syrian President Bashar Assad's government fails to comply.
Secretary of State John Kerry and Russian Foreign Minister Sergey Lavrov and their teams had been meeting day and night in Geneva to develop a framework for ridding the world of Syria's chemicals weapons. A gas attack in the Damascus suburbs on Aug. 21 prompted a series of events leading to the meetings.
The U.S. and others blame Assad's government for the attack, though Assad denies the charge. More than 1,400 people died, according to U.S. estimates, the latest victims of Syria's 2 1/2-year-old civil war. Yet polls showed relatively little support among Americans for a military strike against Syria, even after the Obama administration's efforts to argue that punishing the Assad government for violating international norms of warfare was in the security interests of the U.S.
Obama ordered preparations for American airstrikes, but he decided instead to ask for authorization from Congress for military action. Then came the Russian proposal for international control of Syria's chemical weapons, and Obama asked Congress, already largely opposed to military intervention, to delay a vote.
The deal to destroy Syria's chemical weapons also offers the potential for reviving international peace talks to end a civil war that has claimed more than 100,000 lives and sent 2 million refugees fleeing for safety, and now threatens the stability of the entire Mideast.
In Congress, Republican Sens. John McCain of Arizona and Lindsey Graham of South Carolina, who are among Obama's sharpest foreign policy critics and support greater U.S. assistance for Syria's rebels, said the agreement will embolden enemies such as Iran.
House Democratic leader Nancy Pelosi of California credited the president's "steadfast leadership" for "making significant progress in our efforts to prevent the use of weapons of mass destruction."
The Associated Press contributed to this report.