Obama Pleads for Patience on Economic Recovery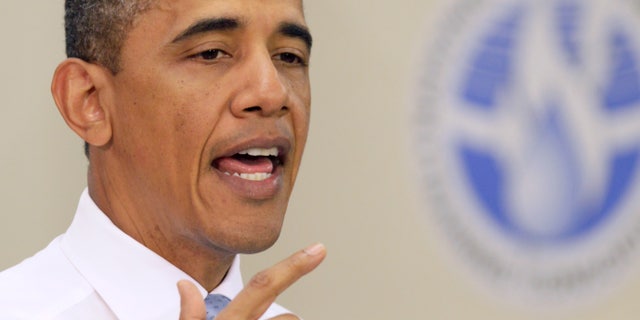 President Obama on Saturday continued to make his case for patience about the economic recovery following a spate of disappointing news last week that suggested a turnaround wasn't as close as expected.
Job growth slowed sharply in May, unemployment inched up to 9.1 percent and housing prices dropped to a new low. Economic indicators also showed that manufacturers cut 5,000 jobs last month. Those were the first job losses in that sector in seven months.
In his weekly radio and online address, Obama said people need to be patient about the economic recovery and that training workers for manufacturing jobs will help with the turnaround.
"It's going to take time," he said, arguing that the recession didn't happen overnight and won't end that way, either.
Recent polling found broad disapproval with Obama's handling of the economy as the 2012 presidential election takes shape. It reached 59 percent in a Washington Post-ABC News poll.
No president since World War II has won a second term with a jobless rate above 7.2 percent, and Obama's options for achieving faster economic growth before the November 2012 election appear limited.
Obama scheduled a visit to Durham, N.C., on Monday for a session with his jobs council on how Washington can encourage private-sector hiring. Council members and administration officials also planned to hear from businesses in the region.
Last Wednesday, Obama announced an effort by the private sector, colleges and the National Association of Manufacturers to help half a million community college students become trained and certified for manufacturing jobs. They would get a credential guaranteeing that they are skilled.
"If you're a company that's hiring, you'll know that anyone who has this degree has the skills you're looking for," the president said Saturday. "If you're a student considering community college, you'll know that your diploma will give you a leg up in the job market."
Obama said other steps, such as providing students with a quality education and investing in new jobs in the clean energy sector, will aid economic growth.
In the weekly Republican message, also on jobs, Rep. Adam Kinzinger, R-Ill., recalled the administration's promise that unemployment would go no higher than 8 percent after Obama pumped billions of dollars into the economy soon after taking office.
Kinzinger said the "road to refueling our economy and creating jobs" includes tackling government debt, simplifying tax laws, limiting regulations, passing free-trade agreements with Colombia, Panama and South Korea, and boosting domestic energy production.
"These are some of the steps we need to take to get government out of the way and let our economy grow and get back to producing jobs," he said.
The Associated Press contributed to this report.