Obama Pick for Bench May Be Defeated by GOP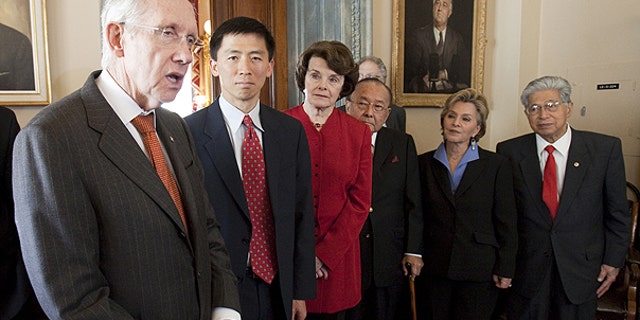 NEWYou can now listen to Fox News articles!
WASHINGTON -- Senate Republicans may hand President Obama his first defeat on a judicial nomination, as they appear to have sufficient votes to sustain a filibuster against liberal law professor Goodwin Liu.
Democrats chose to force a vote Thursday to end GOP blocking tactics against the University of California, Berkeley, scholar. Senate aides from both parties said it did not appear the majority party could attain the 60-vote super-majority needed to stop a filibuster.
In other contentious Obama judicial nominations, Senate Democrats have chosen not to force a vote unless they were confident they could win. The aides spoke on condition of anonymity because they were not authorized to comment on confidential vote counts.
Liu was nominated for the San Francisco-based 9th U.S. Circuit Court of Appeals. He has become a test case for both parties and their supporters.
To most Democrats and liberal backers, Liu is the type of nominee they want for a lifetime appointment on the federal bench. He supports liberal social issues such as gay marriage and affirmative action. He was given a top rating of unanimously well-qualified by the American Bar Association. He was a Rhodes Scholar and clerked for Supreme Court Justice Ruth Bader Ginsburg. He received numerous awards for academic and legal achievements, including the highest teaching award at his law school.
To most Republicans and conservative allies, he's a judicial activist who would impose his views to bend the Constitution to meet liberal social goals. They remain angry at his attacks on the Supreme Court nominations of John Roberts, now the chief justice, and Justice Samuel Alito.
In Liu's case, the stakes go beyond those arguments. Both sides agree he's a brilliant legal scholar at age 40. He could be a future Supreme Court nominee who could alter a thin conservative majority, depending on whom he might replace. That's one reason both sides lobbied hard to win the vote.
Liu made a last-minute attempt to win support, visiting with senators Wednesday accompanied by White House Counsel Bob Bauer.
A strong indication of the Democrats' problems came from Sen. John McCain, R-Ariz., who had been part of a group of 14 senators who pledged not to filibuster judicial nominees except under extraordinary circumstances.
Although McCain had recently voted to end his party's filibuster against a district judge nominee, his office issued a statement Wednesday that said, "The nomination of Mr. Goodwin Liu does rise to a level of extraordinary circumstances and therefore McCain will seek to filibuster the nomination."
Republicans and conservatives believe Liu expressed his true judicial philosophy in a radio interview after Barack Obama's election. He said then that liberals "have the opportunity to actually get our ideas and the progressive vision of the Constitution and of law and policy into practice."
Liu had said Alito's vision was an America "where police may shoot and kill an unarmed boy ... where federal agents may point guns at ordinary citizens during a raid, even after no sign of resistance ... where the FBI may install a camera where you sleep ... where a black man may be sentenced to death by an all-white jury for killing a white man, absent ... analysis showing discrimination."
Liu told his confirmation hearing before the Senate Judiciary Committee that this "was not an appropriate way to describe Justice Alito." He described his own language as "unduly harsh," and added, "If I had it to do over again I would have deleted it."
He had accused Roberts of acting throughout his career to "further the cause of the far right."
Liu told the committee that "whatever I may have written in the books and the articles would have no bearing on my action as a judge."