Obama nominates former P&G chief to head up VA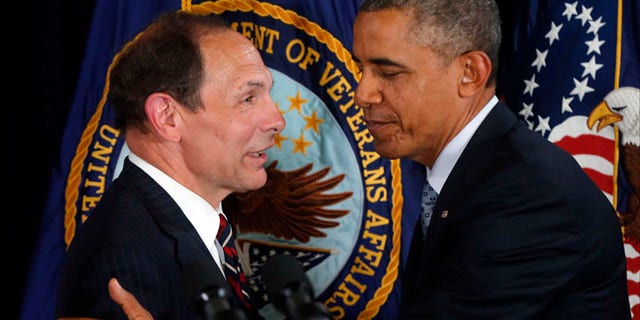 WASHINGTON – Robert McDonald, the former head of Procter & Gamble, was tapped by President Obama on Monday to head up the Department of Veterans Affairs.
The president, making the announcement at the VA, said his administration was focused on establishing a "new culture of accountability" at the VA.
Obama also praised McDonald as a man of integrity and said McDonald "is an expert in making organizations better."
McDonald, who still must be confirmed by the Senate, would take over the role vacated by the previous chief, Eric Shinseki, who resigned following allegations the agency had manipulated the books on wait times for veterans and in some cases denied them treatment.
For some, McDonald was an unusual choice.
McDonald headed up Procter & Gamble, a company that sells Charmin toilet paper and Cascade detergent, but his leadership came under scrutiny by Wall Street analysts who said the company struggled to grow with him at the helm.
While at P&G – a Fortune 500 company – McDonald oversaw more than 120,000 employees.
McDonald, 61, worked for P&G from July 2009 to July 2013. While at the company he was known for making steep cuts to P&Gs staff. He was replaced last year for various reasons.
House Veterans Affairs Committee Chairman Jeff Miller, R-Fla., said if confirmed, McDonald would "inherit a Department of Veterans Affairs under a specter of corruption that may very well surpass anything in the history of American government."
He said McDonald would need to "root out the culture of dishonesty and fraud that has taken hold within the department and is contributing to all of its most pressing challenges."
In a letter announcing his retirement from P&G, McDonald wrote, "This has been a very difficult decision for me, but I'm convinced it is what is in the best interests of the company and you."
"During the past year, much attention has been focused on me from several angles, which has been a distraction that is not in our best interests," he wrote.
Senate Veterans Affairs Committee Chairman Bernie Sanders, I-Vt., reacting to the news of McDonald's nomination, said he looks forward to meeting with him.
"The VA needs significantly improved transparency and accountability and it needs an increased number of doctors, nurses and other medical staff so that all eligible veterans get high-quality health care in a timely manner," he said in a statement.
Fox News' Chad Pergram and The Associated Press contributed to this report.