Obama golf pal called 'hostile' witness in Chicago fraud case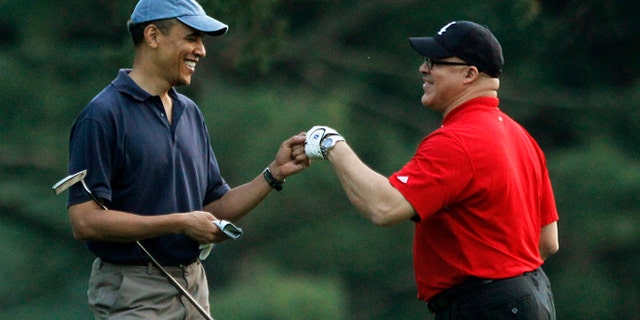 One of President Obama's close friends and regular golf buddies is caught up in a steamy legal case that dates back to the pocket-padding Blagojevich days, as prosecutors accuse him of being a hostile witness.
Prosecutors are trying to speak with Eric Whitaker in connection with a Chicago fraud case involving millions of taxpayer dollars from the former Blagojevich administration to a businessman who allegedly spent it on vacation homes, luxury cars and more.
But court documents claim Whitaker, a 49-year-old physician and former hospital administrator who frequently is photographed with Obama hitting the links, has stopped cooperating with the U.S. District Attorney's Office.
Federal prosecutors now want to treat him as "a witness clearly hostile to the government" the next time they question him, according to documents filed by the prosecutor's office at the U.S. District Court in Springfield, Ill.
At issue is the case of Leon Dingle Jr., who faces decades in prison on various fraud charges relating to $11 million in grants his private, nonprofit companies got from the Illinois Department of Public Health while Whitaker served as its director from 2003-2007. Dingle, who has been charged along with his wife, is accused of funneling more than $3 million of that taxpayer money – much of which was intended for AIDS awareness and other health programs -- into his own coffers for private use.
Prosecutors want to ask Whitaker about his ties to the defendant.
Whitaker's former chief of staff and top aide in a subsequent private sector job, Quinshaunta Golden, has been named a co-conspirator in the Dingle case as she was in charge of overseeing grants from DPH to Dingle's nonprofits. She already has been indicted and pleaded guilty to a related bribery and theft scheme in which she and another DPH official were accused of funneling off $400,000 of the grant money for themselves.
In a curious twist, prosecutors also allege a Dingle employee was paid $10,000, for an unspecified reason – after she witnessed "what appeared to be a sexual encounter" between Golden and Dingle.
Whitaker has not been accused of wrongdoing. But the prosecution alleges at least some of this grant money given to Dingle's nonprofits came back to benefit Whitaker and Golden, whether in the form of social expenses paid by Dingle or awards and recognitions steered their way by the businessman.
Whitaker, whose relationship with Obama dates back to graduate school where the two reportedly played basketball together, is considered a close friend of the president and is often seen at his side at social events including first family vacations. They have hit the links from coast to coast, on courses from Hawaii to Martha's Vineyard to North Carolina.
Whitaker could not be reached for comment. A year ago, he said publicly that he wasn't aware of any wrongdoing involving grants out of his office, and that he was cooperating with investigators. But the prosecutors say in the motion filed this week that not only had Whitaker not answered their questions, but he has refused to comply with repeated requests for pre-trial interviews, as well as a trial subpoena.
He allegedly stopped cooperating altogether during their first and only meeting in 2012, when he refused to answer any questions concerning an alleged personal relationship with Golden.
Dingle's trial began in October. He has denied the charges.
On Wednesday, District Court Judge Richard Mills backed the prosecutors' claims. He issued an opinion saying the government "has presented significant evidence that Dr. Whitaker and Dr. Dingle had a relationship at the time relevant to matters at issue in this trial," and Whitaker's refusal to comply with the cooperation agreement is enough to consider Whitaker a witness "identified with Dr. Dingle" and "hostile to the government."
But he also cited a sworn affidavit from Harry Hankeimer, Whitaker's attorney, that Whitaker has "no personal, business or other relationship with Dr. Dingle." Hankeimer did not return a call from FoxNews.com.
Mills granted the prosecutor's motion to treat Whitaker as a hostile witness, as long as he is first questioned under oath in the courtroom without the jury present. The judge will then make a final ruling after he sees how Whitaker responds. If he still finds him "hostile," he could be treated as such in front of the jury. This means the prosecutor would be able to ask leading questions that are not usually allowed because they could end up prejudicing the jury against him and the defendant.
Prosecutors have not decided when or if they will call Whitaker to testify, but it could be as early as next week, the office told FoxNews.com
Whitaker was appointed to DPH by then-Gov. Rod Blagojevich who is now serving a 14-year term in federal prison after he was convicted in 2012 on corruption charges, including the soliciting of bribes for political appointments.
The benefits the prosecution says Whitaker received via Dingle include dinner and a concert that Dingle paid for during an October 2012 conference in Las Vegas, tickets to a Rainbow/Push "Unity Globe" awards in November 2007, and awards and honors for both Dingle and Golden.