Obama, Civil Rights Centerpiece of Kentucky Senate Debate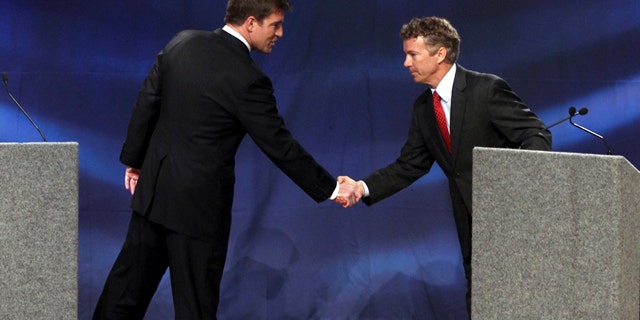 HIGHLAND HEIGHTS, Ky. -- Republican Rand Paul continued his push Monday to make President Barack Obama the big issue in Kentucky's U.S. Senate race, while Democrat Jack Conway criticized his tea party-backed opponent for his stands on civil rights and workplace safety.
Conway and Paul faced off Monday night in a contentious debate, the second in their closely watched race to replace retiring Sen. Jim Bunning.
Paul told some 600 people gathered in a Northern Kentucky University auditorium that he wants to reduce government spending, cut taxes and slash the size of a federal government that has forced businesses to move overseas.
"We tax them to death and we regulate them to death," Paul said. "We have the most business unfriendly administration we've ever had. This election will be about do you want someone who will support his president and his plans or do you want someone who will support the market place, support the individual ..."
Conway took aim at Paul's claims that he will offer a proposal to balance the budget in one year if elected. Conway said Paul has been spare with details, but warned that such a proposal would cut spending by 40 percent.
Conway unleashed a barrage of criticisms in his opening statement, accusing Paul of wanting to slash federal spending for drug enforcement, favoring a larger Medicare deductible for seniors and opposing key provisions of the Civil Rights Act. He said Paul wants to distract voters from those issues by focusing on Obama.
"This election is not about President Obama," Conway said. "This election is about Jack Conway and Rand Paul."
The two, who had debated on Fox News just more than a week ago, have two more coming up in the next week.
Paul, a Bowling Green eye surgeon and first-time candidate, trounced his Republican primary opponent by calling for smaller government and a balanced budget. He is the son of Republican Texas Rep. Ron Paul who made a dark-horse presidential run in 2008.
Conway, the state's attorney general, also has tried to appeal to fiscal conservatives, saying he understands voters' frustration with rising federal spending.
That hasn't stopped Paul from trying to tie Conway to Obama in every campaign stop. Paul, who kicked off a bus tour on Monday, used a giant airline ticket as a prop, offering to pay Obama's airfare to Kentucky to campaign on behalf of Conway.
So far, Obama has stayed clear of the state, but former President Bill Clinton, who carried Kentucky in both his races, campaigned for Conway in Lexington on Monday.
Conway has acknowledged that he would have supported some of President Barack Obama's initiatives, including the health care overhaul.
However, Conway said he would have voted against a $700 billion bailout program for troubled financial institutions that was started under President George W. Bush, a Republican.
"He's going to keep saying `Obama, Obama, Obama,"' Conway said. "It's about putting Kentucky first. Who do you want to go up there and represent you, someone who gets the state. Someone who is going to fight against a $2,000 deductible for Medicare."
Conway used the debate to slam Paul for saying he wants to impose a $2,000 Medicare deductible, citing remarks Paul made in a speech last year that made its way onto YouTube. Paul said the comment was taken out of context, and that he doesn't support such a high deductible.
In one of their sharpest exchanges, Paul said he's willing to talk about changes to shore up Medicare and Social Security without affecting benefits for current or near-term recipients, and accused Conway of ducking tough issues.
"Step up and be a man, take a chance, say you're for something," Paul said.
Conway replied, "Rand Paul, I'm sick and tired of you putting forward something so callous and acting like it's courageous. I'm never going to balance the budget on the backs of seniors."
Paul said that if elected he would be an advocate for building new roads and bridges that are needed in Kentucky, but only "within the context of a balanced budget" in condeming congressional earmarks.
"Yes, I will advocate for Kentucky's interests, but within the confines of a balanced budget and not through the earmark process," Paul said. "The earmark process has really been a stain on our history."