Obama Chooses Deputy Commander in Florida to Replace Petraeus in Afghanistan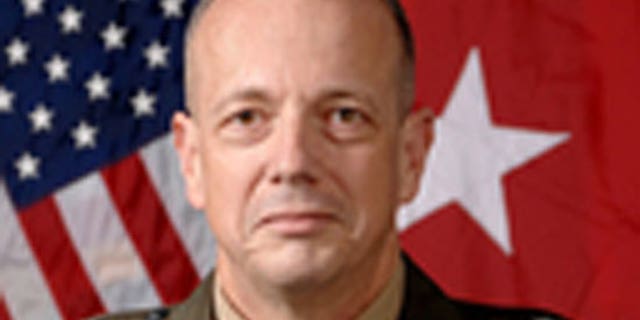 NEWYou can now listen to Fox News articles!
With President Obama shaking up his national security team --Leon Panetta is tapped to become the next defense secretary and Gen. David Petraeus set to replace him as CIA director -- Lt. Gen. John Allen, the deputy commander of U.S. Central Command in Florida, will get the call to take over Petraeus' duties as U.S. commander in Afghanistan.
Joining Allen in Afghanistan will be diplomat Ryan Crocker, who will serve as the next U.S. ambassador there.
The shakeup will be announced on Thursday and the changes are likely to take effect this summer.
Allen, a Naval Academy graduate who led forces in the Al-Anbar Province of Iraq, has never served in Afghanistan.
But Allen has more than 30 years of experience, including stints as a ceremonial officer at the Marine Corps Institute in Washington, a Marine Corps Fellow to the Center for Strategic and International Studies and as a member of the Council on Foreign Relations, according to his bio. He also served in the Balkans from 1995-1996. He has worked at Central Command since 2008.
Lt. Col. Tony Shaffer of the Center for Advanced Defense Studies said the change "signals that… there's a major change coming with regard to policy."
"I don't think anybody is really clear on what that means, other than they're committed to starting to withdraw troops this summer, which many of us think is probably too slow," he said. "I think overall, you're going to see some major changes."
Petraeus had only been in Afghanistan since June when he replaced Gen. Stanley McChrystal, who resigned following an inappropriate interview with Rolling Stone magazine in which he and his aides criticized and mocked the president and his civilian team overseeing the war effort. Petraeus was expected to leave his post before the end of the year.
After more than nine years of fighting in Afghanistan, the White House in July plans to transition security control to the Afghans and begin withdrawing the roughly 100,000 U.S. troops there.
Petraeus claims that military advances, especially in the traditional Taliban stronghold areas of southern Afghanistan, have slowed down the Taliban-led insurgency and given the upper hand to the U.S. and its NATO partners.
This is a make-or-break year for turning around the Afghanistan war and setting the stage for a gradual U.S. exit by 2015, U.S. military and civilian defense leaders say. The main hurdles are the unpredictable leadership and weak government of President Hamid Karzai. The open questions remain whether the Taliban can be integrated into Afghan political life and the continued safe harbor Pakistan provides for militants attacking U.S. and NATO forces over the border in Afghanistan.