Obama calls for more spending on military presence, training in Europe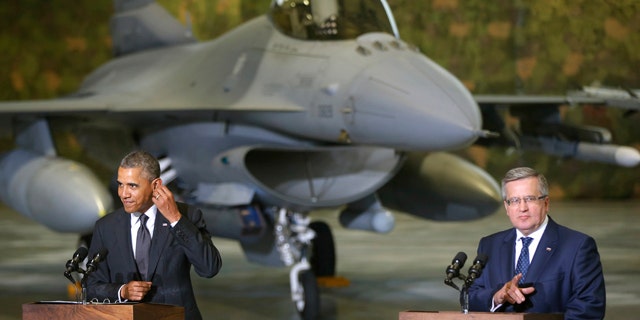 On the first day of a four-day European trip that will include a remembrance of D-Day and much discussion about the ongoing crisis in Ukraine, President Obama called on Congress to approve up to $1 billion in spending on additional U.S. air and ground forces in Europe.
The initiative was announced while Obama was in Warsaw, Poland, the first stop on his three-country tour, which comes as the president attempts to ease anxiety among NATO allies who are wary of Russia's threatening moves in Ukraine. The White House said the funding would be used to increase military exercises and training missions, as well as rotations of air and ground forces, on the continent.
Officials said Obama was also seeking to ramp up U.S. Navy participation in NATO deployments in the Black and Baltic Seas, plus working to boost the military capacity of non-NATO countries that sit on Russia's border, including Ukraine, Georgia and Moldova.
Minutes after landing in Poland, Obama declared that European security was the "cornerstone of our own security and it is sacrosanct."
"It is a commitment that is particularly important at this time," Obama said, standing in front of American and Polish F-16 fighter jets.
The president's visit to Warsaw coincides with the 25th anniversary of Poland emerging from communism. Obama also planned to meet with Group of 7 leaders in Brussels before heading to France to mark the 70th anniversary of the D-Day invasion that eventually led to Allied victory in World War II.
After viewing the F-16 fighters, Obama headed to Warsaw's Belweder Palace for a meeting with Polish President Bronislaw Komorowski. Followinng their private talks, the two leaders were to hold a news conference.
Later Tuesday, Obama and Komorowski planned to hold discussions on central European security with leaders from Bulgaria, Croatia, the Czech Republic, Estonia, Hungary, Latvia, Lithuania, Romania and Slovenia.
U.S. Secretary of State John Kerry was joining Obama for many of his events in Warsaw. During a separate meeting Tuesday with Poland's foreign minister, Kerry said the crisis in Ukraine presents "a new moment of challenge for all of us."
"Events in Ukraine have unfortunately unleashed forces that we had all hoped had been put away, were behind us, and so it requires new vigilance and it requires clear commitment," Kerry said.
Ukrainian President-elect Petro Poroshenko also planned to be in Warsaw this week and was scheduled to hold his first bilateral meeting with Obama while in Poland. Those talks come a few days before Obama's likely encounter with Russian President Vladimir Putin, who also planned to attend the events in Normandy.
White House officials said the anniversaries of both Poland's post-communism elections and the WWII invasion had particularly resonance given the ongoing tensions between Russia and Ukraine.
"Oftentimes these anniversaries, you gather together and you look back, and we will do that," said Ben Rhodes, Obama's deputy national security adviser. "But we also at this moment in particular have to look forward, recognizing that the work is not done in terms of securing a Europe that is whole, free and at peace, and recognizing that there are still people in places like Ukraine who are standing up for their freedom and democracy."
"We have to take the energy that we draw from those anniversaries and the inspiration we draw from those anniversaries, and use that to mobilize collective action going forward," Rhodes added.
Obama's meeting with Poroshenko was scheduled for Wednesday. Poroshenko also planned to attend the D-Day events Friday with Putin and more than a dozen other heads of state. All eyes will be on body language and any interactions between them, with Europe and the U.S. condemning Russia's actions in Ukraine and levying sanctions against Russian officials.
French President Francois Hollande invited all the leaders and was going to great pains to keep some distance between Obama and Putin on the eve of the Normandy visit. He was hosting a dinner with Obama in Paris on Thursday night, then another with Putin a couple of hours later.
"There will not be a trilateral dinner that evening between the three of them," Rhodes said. "It's just a one-on-one."
The Associated Press contributed to this report.