Obama, Calderon Blast Arizona Immigration Law During White House Visit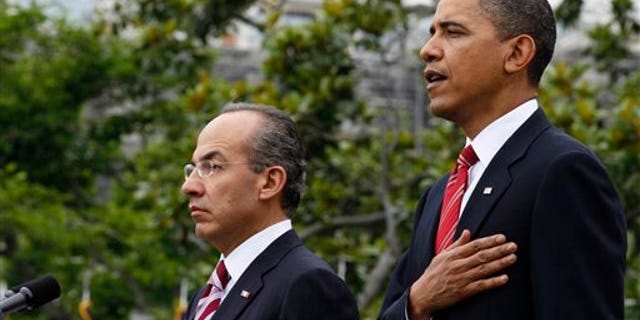 President Obama and Mexican President Felipe Calderon joined hands Wednesday in blasting Arizona's controversial immigration law, with Obama calling the legislation a "misdirected effort" after Calderon slammed it as discriminatory.
Obama, speaking next to Calderon during Wednesday's state visit, called the tough immigration law a "misdirected expression of frustration over our broken immigration system."
"We're examining any implications especially for civil rights because in the United States of America, no law abiding person -- be they an American citizen, illegal immigrant, or a visitor or tourist from Mexico -- should ever be subject to suspicion simply because of what they look like."
Obama said he has directed the Justice Department to review the law and said he expects to receive a final report soon.
Arizona's law, which takes effect in July, will make it a crime under state law to be in the U.S. illegally
At the start of Wednesday's White House visit, Calderon said the law discriminated against Mexicans and called for the two countries to work together to develop an immigration policy that did not force people to live in the shadows "with such laws as the Arizona law, which is forcing our people to face discrimination."
Calderon, whose remarks were translated from Spanish, said "We can do so if we create a safer border -- a border that will unite us instead of dividing us.
"We are and will continue to be respectful of the internal policies of the United States and its legitimate right to establish, in accordance to its Constitution, whatever laws it approves," he said, "But we will retain our firm rejection to criminalized migration so that people that work and provide things to this nation would be treated as criminals."
Obama also stressed that he and Calderon had directed their governments to make the U.S.-Mexican border more secure and efficient.
"Illegal immigration is down, not up," Obama said, "And we will continue to do whatever is necessary to secure our shared border."
"Today I want every American to know my administration has devoted unprecedented resources in personnel and technology to securing our border," he added.
Almost twice as many people support the Arizona law as those who oppose it, according to an Associated Press-GfK poll this month. It found that 42 percent favored it, 24 percent opposed it and another 29 percent said they were neutral.
Obama has promised to start work on an immigration overhaul, but he's also warned that Congress may not have the appetite to take on the sensitive issue this year. He pointed out Wednesday that he can't get the 60 votes he would need in the Senate to pass an immigration bill unless some Republicans step forward. That Republican support could be hard to come by for Obama in an election year.
The two leaders spoke during a joint news conference in the White House Rose Garden following a private meeting. Obama will host Calderon at a state dinner Wednesday night.
The Associated Press contributed to this report.