Obama Announces Jones' Departure as National Security Adviser, Taps Donilon as Replacement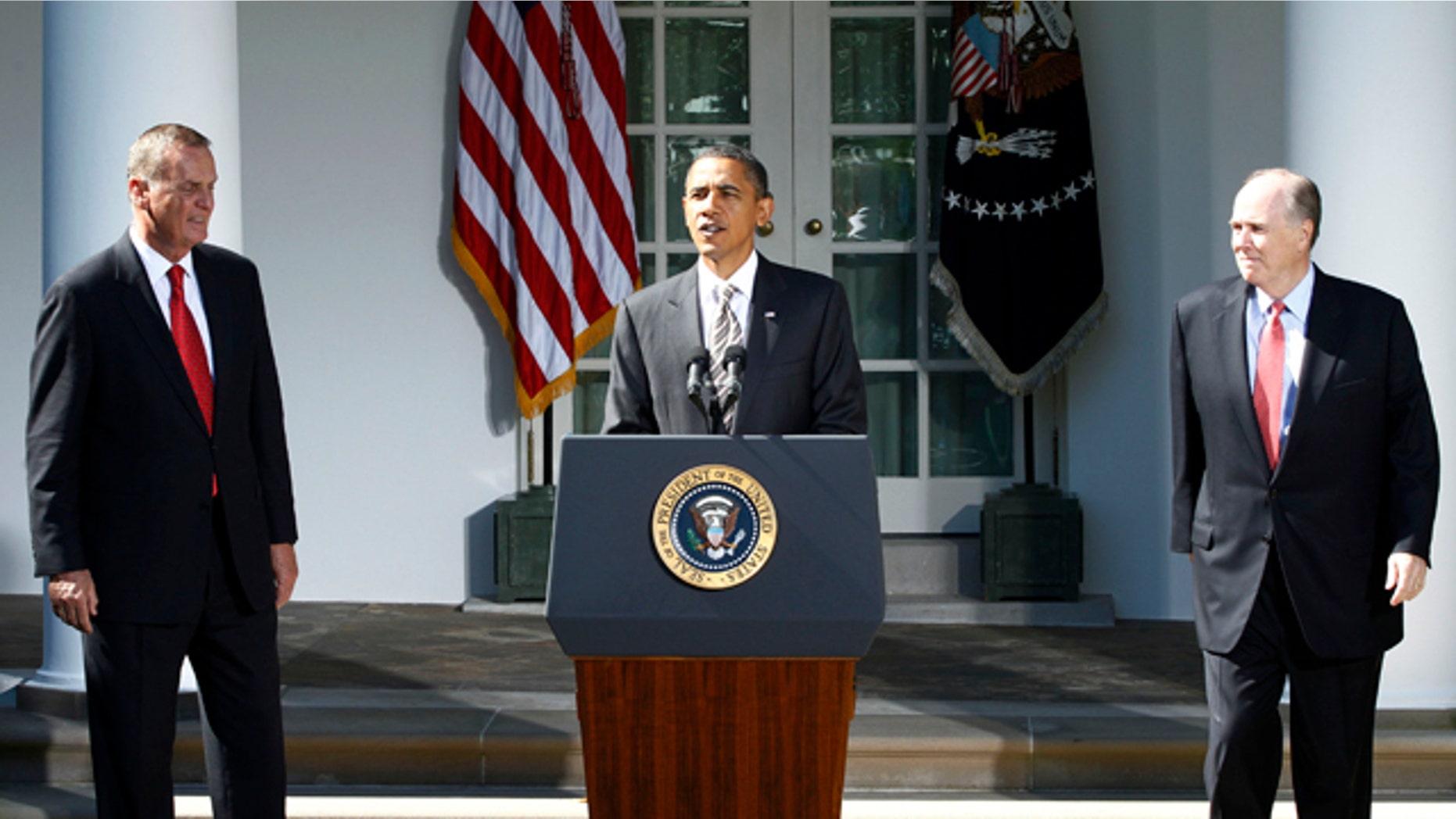 President Obama announced Friday that Gen. James Jones will resign as national security later this month and be replaced by Tom Donilon, the deputy national security adviser.
Obama hailed Jones, a lifelong military man before his White House post, as a "dedicated public servant and a fried to me."
Jones described his tenure as a "privilege" and said his achievements wouldn't have been possible without Donilon, a workhouse figure in the White House who brings to the job a long background of Democratic politics and diplomacy.
Both Jones and Donilon were in the White House Rose Garden when Obama announced the change.
Jones, whose resignation was not unexpected, becomes the latest high-profile official to leave the administration following Chief of Staff Rahm Emanuel's departure last week.
Last month, Christina Romer stepped down as Obama's top economic adviser, and Larry Summers announced he would leave as director of the president's National Economic Council at the end of the year. Budget Director Peter Orszag left the administration in July. Dennis Blair resigned as the nation's intelligence director in May.
More leadership changes are expected as Obama nears the two-year mark of his term and the grueling pace of the White House takes a toll.
Jones, who retired from active duty in February 2007 after more than 40 years of uniformed service, had planned all along to leave the national security adviser's post within two years, one official said.
But K.T. McFarland, who served in national security posts in the Nixon, Ford and Reagan administrations, told Fox News that there could be more to Jones' departure than meets the eye. It comes just days after Bob Woodward published a book revealing deep divisions among Obama's national security team.
"I'm wondering if this is the first step we're seeing in some kind of a policy shakeup because the news out of Afghanistan has not been good," McFarland said.
In Woodward's book, "Obama's Wars," Defense Secretary Robert Gates is quoted as saying Donilon replacing Jones "would be a disaster."
But a senior Defense official told Fox News that this characterization is "outdated."
Gates did have concerns late last year during the Afghanistan-Pakistan review process, the official said, but suggested they have been addressed and overcome. Gates and Donilon now enjoy a good working relationship, the official said.
The disaster comment "does not reflect the current state of play, and Gates is looking forward to working with him in this new capacity," the official said.
Donilon, who was widely considered the frontrunner to replace Emanuel, will now get a chance to leave a bigger mark on Obama's foreign policy. He will not need Senate confirmation because the position is considered a White House job.
As deputy national security adviser, Donilon has pushed what he calls a "re-balancing" of U.S. foreign policy to rapidly disengage American forces in Iraq and to focus more on China, Iran and other emerging challenges.
In the review of the Afghanistan war, Donilon argued that the U.S. could not engage in what he called an "endless war" and has strongly defended Obama's decision to declare that troops will start leaving Afghanistan next summer.
Donilon has overseen the coordination among deputy chiefs from across the security apparatus and is known for bringing an understanding of domestic policy and politics to the job.
Jones, meanwhile, has kept a generally low public profile. White House aides say he put his stamp on Obama's major foreign policy decisions over the last 20 months, including a reinforced troop presence in Afghanistan, a winding-down of the war in Iraq and a retooled relationship with Russia.
Jones served as the 32nd Marine Corps Commandant from July 1999 to January 2003. After leaving the post, he became the Supreme Allied Commander, Europe, and Commander of the U.S. European Command, holding the positions until December 2006. Besides combat experience in Vietnam, Jones served tours of duty during Operation Provide Comfort in northern Iraq and Turkey as well as during operations in Bosnia-Herzegovina and Macedonia.
Administration officials said they expect Jones to go into a semiretirement in which he will likely serve on boards and offer counsel to the White House.
The Associated Press contributed to this report.