Obama and Peres See Opportunity in 'Arab Spring'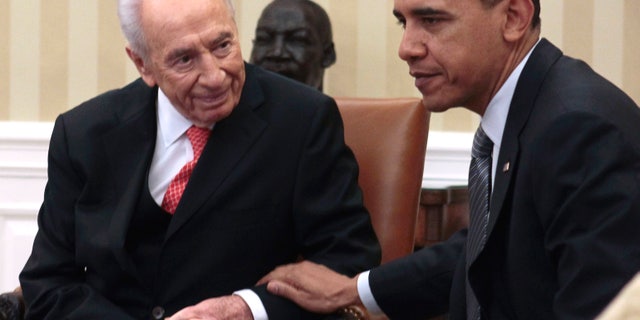 NEWYou can now listen to Fox News articles!
In a surprise White House question and answer session Tuesday, President Obama said he and Israeli President Shimon Peres agreed the change sweeping the Arab world is both a challenge and an opportunity.
"It's more urgent than ever that we try to seize the opportunity to create a peaceful solution between the Palestinians and the Israelis," President Obama said.
But seven months after the president invited Arab and Israeli leaders to the White House and called for a Palestinian peace agreement within a year, talks have bogged down and the landscape has changed.
Egyptian President Hosni Mubarak is gone; an early victim of the "Arab Spring" now pressuring Jordan's King Abdullah, leader of the only other Arab country at peace with Israel.
Add violent uprisings in Syria, Libya and Yemen, and Israel's president sees the possibility of facing new Arab leaders with new ideas.
"I believe that what's happening in the Middle East is not necessarily a clash of civilizations, but a clash of generations," the Israeli president told reporters after his meeting with Mr. Obama.
Meanwhile, some experts say the uprisings put to rest the theory that an Israeli-Palestinian settlement is the key to Middle East stability.
"You could solve the Israeli -Palestinian problem tomorrow and it would clearly improve our credibility and our interests, but it certainly is not going to guarantee regional harmony," Aaron David Miller of the Woodrow Wilson International Center said.
Though President Obama's relationship with President Peres is warmer than his relationship with Israel's Prime Minister Benjamin Netanyahu, he continues to condemn Israeli settlement construction. White House Spokesman Tommy Vietor issued a statement Monday saying, "Not only are continued Israeli settlements illegitimate, Israel's actions run counter to efforts to resume direct negotiations."
But White House Press Secretary Jay Carney says the President is still optimistic.
"He remains hopeful that progress will be made," Carney said.
With time running out, Palestinian President Mahmoud Abbas says he'll ask the U.N. to declare a Palestinian state if there's no peace agreement by September.
Even if most U.N. members agreed, Miller says that would be an empty gesture.
"It will give them no control. It will be a virtual Palestinian state and the fact is they don't control Gaza, they don't control most of the West Bank."
Tuesday's meeting between the two presidents may set up a visit by Israeli Prime Minister Netanyahu next month. Netanyahu has been more cautious than Peres, on both the prospect of peace with the Palestinians and the threat to Israel posed by the "Arab Spring."