Obama Administration Tries to Set Record Straight on Mobbing of U.S. Envoy to Syria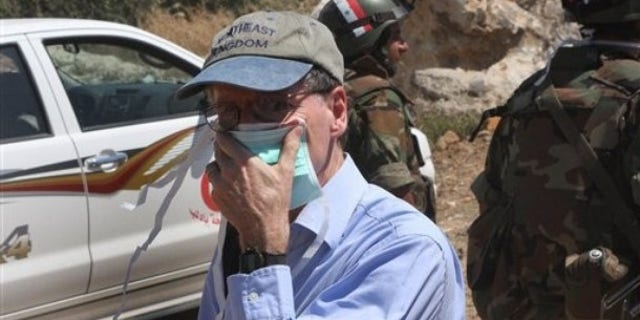 Loyalists of President Bashar al-Assad who mobbed the U.S. ambassador to Syria last week in Damascus made "a feeble attempt to divert the world's attention from what's really going on in Syria with the Syrian people," State Department spokeswoman Victoria Nuland said Tuesday.
In a video that has gone viral on YouTube, the ambassador, Robert Ford, is seen being chased down by a pro-Syrian government crowd with one protester trying to wrap an Assad banner around him before Ford's security force whisks him away in an SUV.
The video has been broadcast on Syrian TV and falsely portrays Ford as trying to lead an anti-government protest.
But Nuland said Ford was invited by lawyers to observe their peaceful sit-in protest at a Syrian bar association.
"He was not involved in any disruptive activity, but some pro-government thugs came and tried to interrupt his bearing of witness and then put it on YouTube as a cynical effort to portray him as an agitator, when in fact, they should have been paying attention to their own lawyers protesting peacefully at the bar association," she said.
Tensions have escalated between the two nations since Syria responded to an uprising that began earlier this year with a violent crackdown. President Obama called on Assad to resign this month and the U.S. has imposed three rounds of sanctions on Syrian officials and entities.
Even so, Ford has remained in touch with the regime in Damascus while the U.S. pushes the U.N. Security Council to impose sanctions on Syria.
"We continue to believe that he is doing very important work there, and the fact that he was asked by the Syrian opposition to come and bear witness to their peaceful protest speaks to his influence and the importance to the opposition of having outside support," Nuland said. "I think this effort to put it up on YouTube is going to backfire, because it just allows more public understanding of what the lawyers were trying to say to their own government."