Obama administration to resume push to ease tensions with Venezuela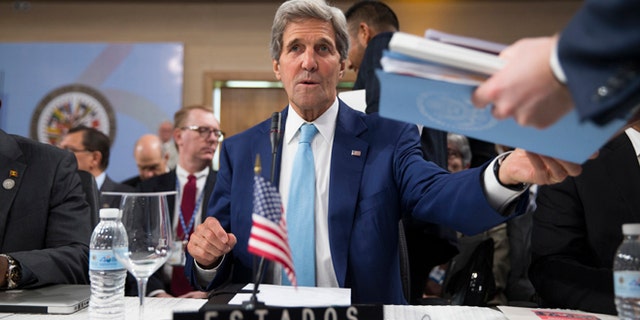 SANTO DOMINGO, Dominican Republic (AP) – U.S. Secretary of State John Kerry said that the Obama administration will resume a diplomatic push to ease tensions with Venezuela as the socialist South America nation plunges deeper into economic and political chaos.
Attending the Organization of American states' annual meeting in the Dominican Republic, Kerry said Tuesday that he had asked Under Secretary of State Tom Shannon to travel to Venezuela as soon as possible to head talks. The decision came after a half-hour meeting with Venezuelan Foreign Minister Delcy Rodríguez where he said he raised food and medicine shortages as areas where the U.S. could provide assistance.
"There is a lot happening," Kerry told reporters after the meeting, which he described as respectful if not warm. "This should not sit around. This should not wait."
Shannon, a veteran diplomat widely respected in Latin America, met with President Nicolás Maduro and other top officials last year during several visits to Caracas to open up communications with the normally hostile Venezuelan government after it accused the U.S. of plotting its overthrow and the Obama administration slapped sanctions on officials for human rights abuses.
Kerry's meeting with Rodriguez occurred on the sidelines of a general assembly of the OAS, where Venezuela's current crisis wasn't on the agenda. But Kerry brought up the issue at the gathering, calling for Venezuela to respect freedom of expression and release political prisoners.
Kerry's comments received a blistering response from Rodríguez, who earlier in the day portrayed the top U.S. diplomat as a bully.
"I feel the ruler of the world has spoken, and who on top of it all has the audacity to voice his opinion on other countries," she said before the meeting with Kerry.
Kerry said the goal of Shannon's future visit is to get beyond the rhetoric and find constructive ways to help Venezuela get through its current crisis, including by support a mediation effort between the opposition and government led by former Spanish Prime Minister José Luis Rodríguez Zapatero.
Kerry denied allegations that the United States is pushing to have Venezuela suspended from the OAS over its failure to respect human right but called on Maduro's government to "honor its own constitutional mechanisms, including a fair and timely recall referendum that is part of that constitutional process."
He was referring to an opposition effort to recall Maduro through a complex process just getting under way. The opposition accuses the government of dragging its feet to prevent a referendum from being held this year and possibly triggering new elections if he were to lose, as opinion polls suggest he would. If Maduro were to be removed in 2017, the Vice President would finish out the two remaining years in his term, denying the opposition of its chance to grab power.
Maduro after the meeting told a rally of supporters that he favors "accelerating" dialogue between the two countries but complained that his critics in league with Washington continue to conspire against Venezuela.
"I have seven years in the school of revolutionary diplomacy," Maduro said, referring to his years as the late Hugo Chávez's foreign minister. "Nobody is going to dress up as a sheep to fool me."
To breathe life into the talks, which he described as "positive," Maduro suggested the two countries exchange ambassadors, something they haven't done since 2010.
Earlier Tuesday, Rodriguez accused OAS Secretary-General Luis Almagro of encouraging an interventionist stance in Venezuela to oust Maduro from office. She alleged that Almagro was "on the payroll of Washington."
Kerry said Almagro's invocation of an article in the Inter-American Democratic Charter to take up Venezuela's crisis at the regional body's permanent council later this month will open a formal discussion about the situation by the.
Kerry said that discussion would help facilitate a national dialogue in Venezuela "that will ultimately address the political, economic, social and humanitarian dimensions of this crisis."
Like us on Facebook
Follow us on Twitter & Instagram